Fifteenmile Creek Aqueduct
The Fifteen Mile Creek Aqueduct is a small, single-arch aqueduct. Built between 1838 and 1850, it is in excellent condition for a century and a half old structure. It was constructed with hard flint stone quarried at Sideling Hill on the West Virginia side of the river. In 1842, during construction, the canal company ran out of funds and work was suspended for a time, but finally, work was completed and the aqueduct began service in 1850. This is a great area to canoe the Potomac River and camp.
Add to Itinerary
You can now create your own itineraries to guide your C&O Canal exploration, or you can copy one of ours! Lean more about Itineraries.
Mile Marker: 141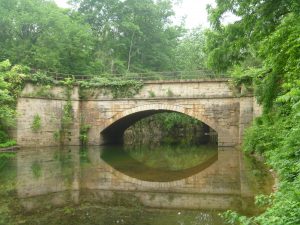 Fifteenmile Creek Aqueduct Credit: PAT GPS Rangers
Photo by: PATC GPS Rangers
Social Media Share: