Evitts Creek Aqueduct
The Evitts Creek Aqueduct is the last of the 11 aqueducts on the Canal, and is made of "Fossilferous Tonoloway Limestone" quarried upstream and shipped to the aqueduct via a 1.5 mile railroad. Work began in 1839 and was completed in 1841 when the Canal company ran out of funds, with final touches and service beginning in 1850.
In August 1864, during the Battle of Folck's Mill, Union forces halted a raiding party of Confederates who had burned Chambersburg, Pennsylvania a few days earlier. They were on their way to Cumberland but unable to cross the bridge at Evitts Creek. The men were forced back to Oldtown where they eventually fought their way across the Canal and river.
Image by Paul Graunke
Add to Itinerary
You can now create your own itineraries to guide your C&O Canal exploration, or you can copy one of ours! Lean more about Itineraries.
Mile Marker: 180.7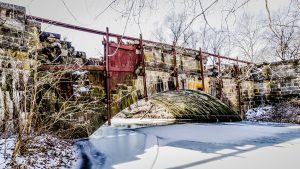 Evitts Creek Credit: Paul Graunke
Social Media Share: