Antietam Creek Drive-In Campground
Just upstream about a quarter-mile from the mouth of Antietam Creek you'll find the Antietam Drive-in Campground. While the campground is accessible by car, you'll need to walk from the parking lot to the adjacent sites.  Your $20 per night fee includes a grill, access to water and portable toilet. Drive-in sites permit stays of up to 14 consecutive nights and 30 nights in a calendar year. No RVs are permitted at Antietam Creek Campground. Be advised that the road access to the campground creates a more casual and often louder camping experience.
If you choose to stay at Antietam Creek after traveling on the Canal or venturing down the stream, make sure you check out the area's many historic attractions, including the Antietam Aqueduct, Burnside Bridge, Antietam Ironworks remains, and of course Antietam Battlefield—site of the single bloodiest day of the Civil War.
Please visit the C&O Canal National Historical Park's website for detailed camping information, or you can call 301-739-4200 with any questions. Site reservations can be made via the Recreation.gov website.
Add to Itinerary
You can now create your own itineraries to guide your C&O Canal exploration, or you can copy one of ours! Lean more about Itineraries.
Mile Marker: 69.6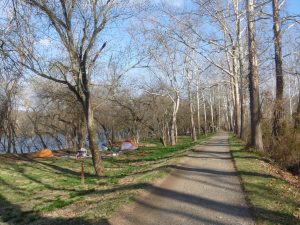 Photo by: Jim Tomlin
Social Media Share: