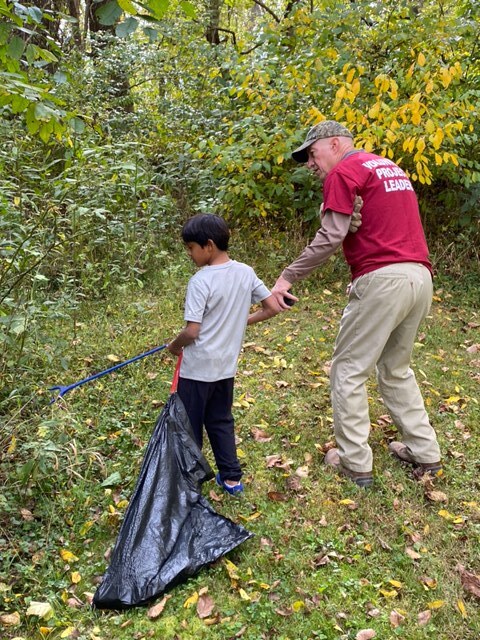 Celebrate your love for the C&O Canal by sharing your personal story about the Park. Each story will take a look at a person's relationship with the C&O Canal. Whether an NPS ranger, a volunteer, or a visitor, everyone has a story to tell about the canal! If you want to share your story, fill out the form below, email it to us at [email protected] or post it on your social media feeds with the hashtag #MyCanalStory. We could use your story here on our website!
Canal Community Story: Don Ramsey
Don Ramsey is a dedicated C&O Canal Trust volunteer. Whether leading volunteer groups doing projects in the Park for Canal Community Days events or helping with our largest annual fundraiser Park After Dark, Don is always willing to roll up his sleeves and lend a helping hand. 
During his childhood, Don's family would go for picnics at various C&O Canal National Historical Park locations. In his teen and young adult years, he would adventure with friends to camp, bike, ice skate, hike, and canoe in the Park. Don remembers his longest bike ride with friends on the canal from Washington, D.C., to Harpers Ferry. "We had a breakdown of one of the bikes," he recalls, "and after miles of taking turns riding and walking, we stopped at Brunswick and camped—so close, yet so far! Luckily, we were able to get dinner from Mackie machines at the YMCA at midnight."
Don also had a memorable adventure by boat. "Can't forget the rowboat overnighter from Fletchers," he says. "Three of us left at dusk and rowed for a couple of hours upstream until we were too tired to row anymore, so we found a small area on the Virginia side to camp. When we woke up the next morning, we could still see Fletchers," Don says, laughing.
Later in life, when Don had his own family, he took his young children on occasional picnics, small hikes, and canoe rides while visiting the Park. When his oldest son was in scouts, he became a scoutmaster and took scouts on hikes and a 50-miler bike campout along the canal. They also did canal cleanups after significant flood events. Don remembers one Whites Ferry cleanup organized by the Boy Scouts of America. "What a mess that was—but we had a great time doing it!"
When his kids grew up and moved out, Don organized a few bike rides in the Paw Paw Tunnel area for family, friends, and coworkers. Then he discovered a volunteer opportunity in the Park. "I first got involved with a Clark Construction event at Harpers Ferry doing a cleanup and removing invasive plants," Don says. "I'm not sure what year that was, but I was hooked and have been there whenever possible to join in on the fun!"
Don's dedication to volunteering in his community extends far beyond the C&O Canal Trust. He volunteers for the Prince George's County County Christmas in April program throughout the year and with the District of Columbia Building Industry Association's yearly massive volunteer project sprucing up Washington, D.C., recreational areas. Before the COVID-19 pandemic, Don logged as many as 300+ hours of volunteer service a year. 
Don is a regular Volunteer Project Leader (VPL) when the Trust has Canal Community Days events throughout the Park. He leads groups of volunteers tasked with various Park beautification projects with a smile and a passion for making the Park a better place for everyone. Don is welcoming to all, especially young people who want to try their hands at volunteer service. "Working with others and teaching the younger generation about the importance of doing good things for our national parks and others will help the environment, which helps the people and animals in the long run," he says. 
Don's favorite places in the C&O Canal NHP include Great Falls, the Paw Paw Tunnel, and the Harpers Ferry area. "Those are the places I suggest to people at work or elsewhere to get them interested in visiting the Park," he says. Though he spends less time recreating in the Park these days than volunteering, it's still very near and dear to Don's heart, and he enjoys giving back to it. "Helping others makes me feel good," Don says, "and doing this work along the C&O Canal is especially nice as not only do I get to visit such a wonderful place, but I can leave it in better condition than when I arrive!"