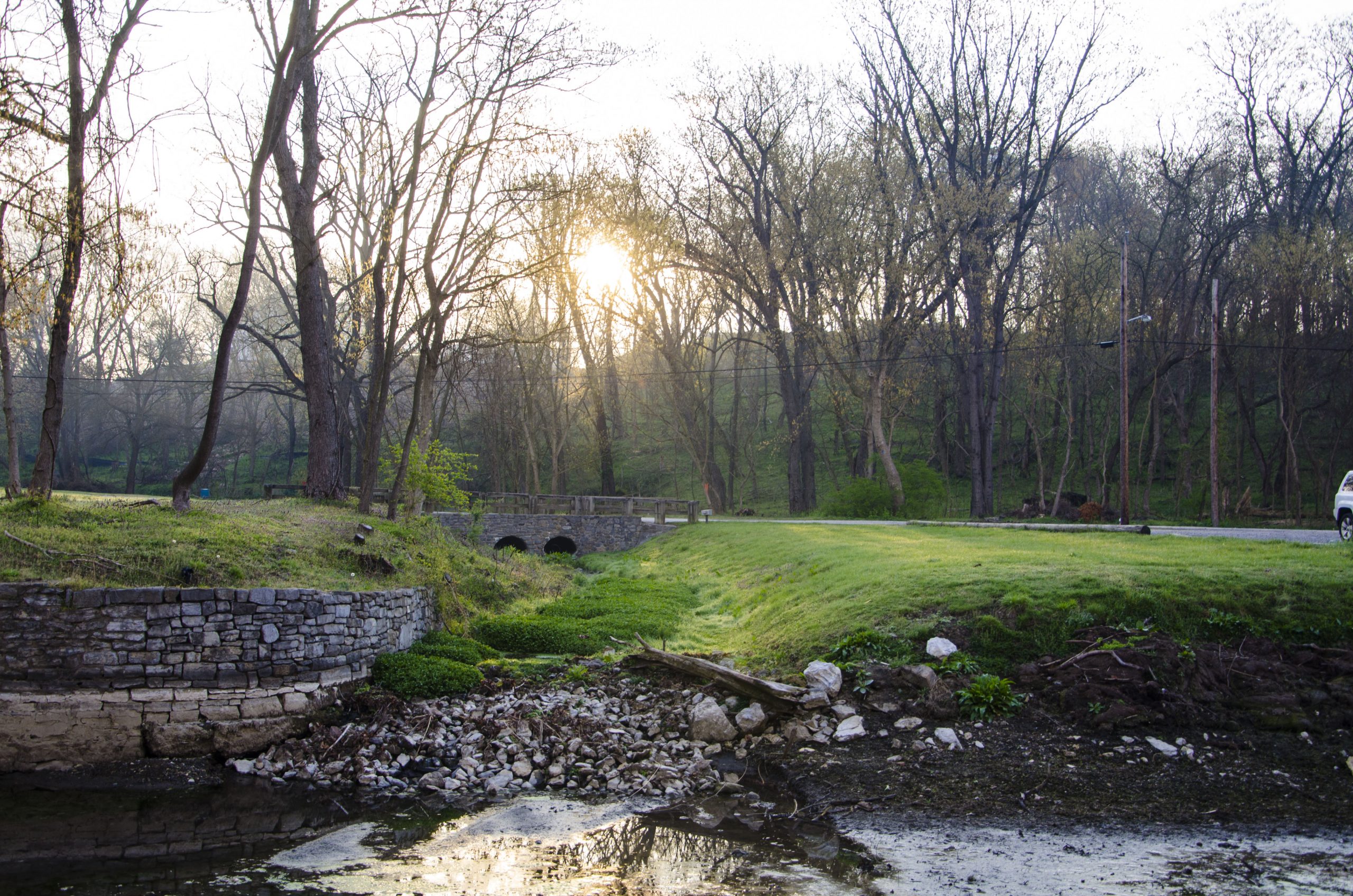 'Lockhouse 44 Parking Lot Looking Into the Canal' by Ellen Kinzer
Daily life has changed in drastic ways over the past months. But what has rapidly become apparent is how much the local community loves the C&O Canal National Historical Park. Stay-at-home and safer-at-home orders are keeping us cloistered, but allowances for exercise have sent thousands of people to the towpath for hiking, biking, stress relief, and an escape from the tedium of quarantine.
Unfortunately, this influx of visitation placed unanticipated stress on the Park's infrastructure at a time when only mission-critical National Park Service staff were working in the Park. Additional dangers loom as visitors are not always practicing social distancing, wearing their masks, or removing their trash from the Park at the end of their stays. 
Our Canal Pride events, which in a typical year would begin in April were postponed. Aimed at helping the Park ready itself for spring, Canal Pride volunteers paint buildings and campsite amenities, pull invasive plants, spread mulch, and pick up the trash that accumulated over the winter months. Instead, the Trust kicked off its 2020 Canal Pride season on July 11 and July 25, with smaller volunteer groups undertaking projects along the length of the canal to restore the Park after the pandemic-related surge in visitation.  
Our Canal Quarters lockhouse program was shuttered from mid-March to mid-June. It has now been reopened, with cleaning and sanitizing between guest stays and other measures recommended by health authorities to prevent the spread of the coronavirus. Guest fees for lockhouse stays support the continued preservation of the lockhouses, and, without this revenue, our ability to care for these historic homes is decreased. 
From our homes, Trust staff  continue to work closely and collaboratively with our National Park Service colleagues to assist them in weathering this storm. Our first priority is always the health and safety of our visitors, volunteers, and staff, but we also remain focused on our core mission of preserving and protecting the Park, confident that those who love the C&O Canal will continue to contribute generously to its wellbeing. The best way to show your gratitude is by investing in the preservation of the Park with a gift to the C&O Canal Trust. With your financial support, we will continue to work on your behalf today and into the future to keep the C&O Canal safe, welcoming, and well-cared-for.
Changes in Park Operations
Check www.nps.gov/choh for updates.
How You Can Help
Stay in touch with us for the latest 

news. We are on Facebook, Twitter, and Instagram. You can also sign up for our 

email newsletter by visiting our website 

at www.canaltrust.org.

Plan to volunteer at our Canal Pride

events — watch our communications 

for dates and details.

Book a stay for a future date at a

Canal Quarters lockhouse or buy a 

gift certificate.

Support the local businesses in our ten

Canal Towns.

Volunteer at your own Canal Pride day!
Make a gift to the C&O Canal Trust.

As a relatively small nonprofit with no 

endowment or cash reserves, the Trust 

is dependent on your generosity for 

close to 90 percent of its annual 

revenue.