Becky Curtis, the C&O Canal Trust's Director of Programs and Partnerships, oversaw the renovation work at Swains Lockhouse project and shares some of her impressions and insights for this blog post.
Beginning Renovations
When the renovations began three years ago, Swains Lockhouse had been vacant for 10 years since the Swain family left in 2006. There was interior water damage from a leaking roof and the usual decay to be expected in a vacant historic building.

Swains' historic bones showed through the decay (Images: C&O Canal National Historical Park).
The goal was to demolish all non-historic fabric down to the stone masonry to present a clean slate. This was the first time in almost 100 years that the historic features of the lockhouse, like the original beadboard, paint colors, and masonry, were visible. It was also the first time since the C&O Canal became a National Park that these historic elements were revealed.

Demolition work involved stripping layers of time (Images: C&O Canal National Historical Park).
Historic Elements and Modern Improvements
After the demo work, the contractor jacked up the roof and second floor to be level and structurally sound for the new standing seam metal roof. Next, new interior wood framing was added where needed. Since Swains is in a floodplain, new electrical wiring was installed above 36 inches, to mitigate damage in case of flooding. On the first floor, contractors crafted an ADA accessible floorplan and full bathroom, installed new drywall and flood-resistant click and go vinyl flooring.

Building Swains back up from its bones (Images: C&O Canal National Historical Park).
Outside, visitors will see a new roof, entrance doors, windows, and shutters all designed to the exact specifications of the lockhouse's 1930s Historic Architectural Building Survey drawings. The entire site was regraded to drain water away from the lockhouse into the canal. A geo grid gravel path provides ADA access to both the front door entry ramp as well as the new picnic and campfire area. Since city sewer is not an option at this site and Swains is part of a National Park, a holding septic tank will capture wastewater. The exterior walls of the lockhouse were left as-is, including the layers of paint atop the stone.
The entire envelope of the lockhouse, foundation, chimneys, fireplace, and stone walls is original other than the new roof. Inside, there are several original interior doors with peeling paint and hardware that remain so visitors can see these authentic remnants of the past. On the second floor, the flooring is all original and since Swains was a family home for generations, their imperfect condition shows their history. There are frames set in to the new drywall so visitors literally look back in time to see the layers of original horsehair plaster on lath.

The interior finishes and modern infrastructure are complete (Images: C&O Canal National Historical Park).
Looking Ahead to Phase Two
In the next three years, Phase Two of the renovation will involve removal of the exterior paint, a full repointing of all masonry, and a layer of whitewash over the stone. These final projects will return the Swains exterior to how it would have originally appeared when it was a working lockhouse. The Trust is hoping to invite the public to learn about historic masonry methods by involving them in this final process.

Guests at Swains Lockhouse will appreciate the historical accuracy of the furnishings. (Images: Robert Mertz)
A Unique Lockhouse
When asked about how the Swains renovation differed from other lockhouse renovations, Becky Curtis replied that they were "given two [really interesting] design challenges": to make the first ADA-complaint lockhouse in the Canal Quarters program and to include proactive flood mitigation techniques. In addition, they were taking this lockhouse back in time—stripping the 1990s finishes and the 1960s era plumbing, for example, to reflect 1916 but also bringing it forward in time in terms of utilities and conveniences. As a clever testament to the original infrastructure, a framed painting of one of the Swains outhouses will hang in the very modern bathroom.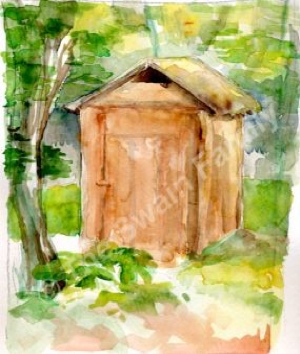 A painting of one of the Swains outhouses will be on display (Image: Bert Swain).
Some of Curtis's favorite touches at Swains Lockhouse include many of the wonderful furnishings volunteer Robert Mertz tracked down. The lockhouse kitchen features a beautiful Elmira Stove Works 1890s reproduction stove and a vintage farmhouse sink.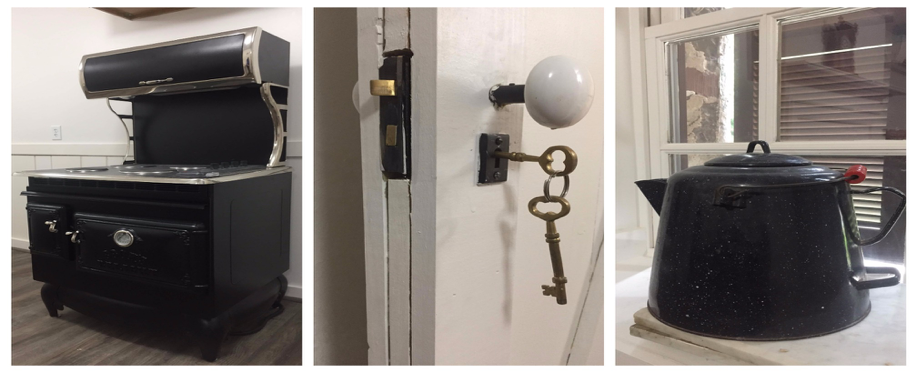 Swains Lockhouse features reflect a balance of tradition and modernity. (Images: C&O Canal Trust)
Other favorites include the ADA accessible murphy bed in the first floor bedroom and the remaining historic elements. And Curtis notes a surprise appearance of Swain family pet, Jimmy the goose.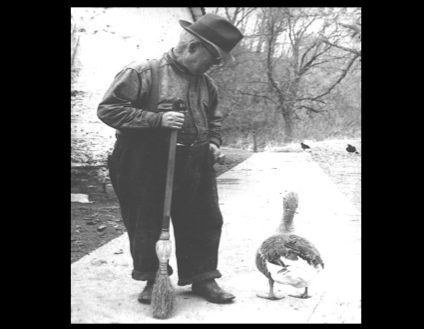 Jesse Swain and his pet goose Jimmy will be a part of the interpretation (Image: Bert Swain).
Three years of renovation work is finally coming to a close at Swains, protecting this charming piece of history for visitors to the C&O Canal Lock 21 and guests in the Canal Quarters program.
SWAINS OPEN HOUSE Saturday, June 29, 12 p.m. – 4 p.m.
Parking is limited at Swains Lockhouse, so consider parking at Great Falls or Pennyfield and hiking/biking in on the towpath.
***
Guest blogger Christine Rai is a college professor in the Washington, D.C. area with a passion for culture, food studies, and experiential learning. She writes about food, travel, and teaching at www.christinerai.com.