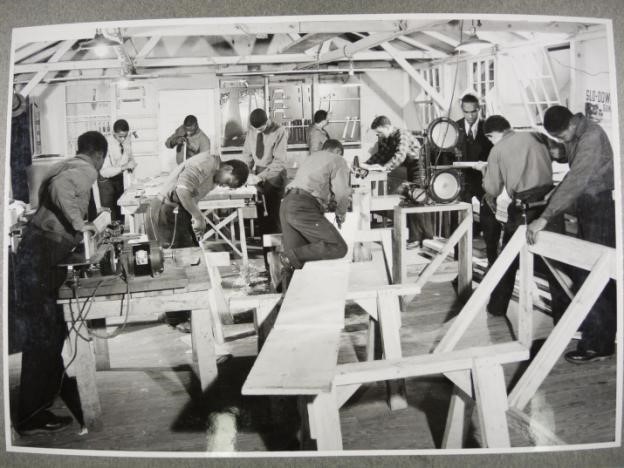 In the previous blog post, brief mention was made of educational advisor C. Rushton Long, the lone African American administrator within the canal camps. This one man, more than any other, was the most important man at both Camp NP-1 and Camp NP-2. Long quite likely served as the first true coach, educator, and leader these enrollees had ever known.
Long's time at Camp NP-2 specifically points to how African American leaders with little formal power were able to exhibit power and free will beyond title and rank. The CCC camps, like all others, had a dual leadership system where Army officers commanded logistics, while four to ten National Park Service employees managed all project work along the canal. Stationed along with the Army officers was the lone African American administrator, who served as the camp Educational Officer. C. Rushton Long, Co. 333's Educational Advisor, was perhaps the most respected and active administrator in the canal camps, which he accomplished by personally providing leadership and opportunity for enrollees above and beyond what was expected of his position.
In conception, the educational advisor position was to do little more than organize classes for enrollees on topics ranging from basic education to technical skills. By the end of Camp NP-2's existence, Long was the de facto leader of the enrollees. He still oversaw their classes, but also coached and organized all sporting events, helped find the men jobs outside of the CCC, and connected the men with other black communities.
There are suggestions that Long's influence spread a short mile down the canal to Camp NP-1, as well as the possibility that enrollees followed Long to Philadelphia post-CCC to enroll in trade school. His level of power, authority, and leadership was exemplary across the CCC. In studying dozens of other camps, no other educational advisor has displayed as much care or power as Long.
In describing the men of Co. 333, Long reported the majority as in dire need – exactly the type of men the CCC was designed to help. Long believed most enrollees "entered camp with no objective in life and with a spirit of defeatism," but, thanks to the CCC, these same men now possessed a modest education, vocational training, and – perhaps most importantly to New Deal administrators – a "wholesome perspective and attitude on life."
From conquering illiteracy to applying to college, Long presented a succinct and convincing argument that the CCC delivered illiterate, depressed men unto the world as empowered skilled laborers. Echoing the lessons seen in trade schools like his father's, Long preached the necessity of cooperation, concentration, and dedication to a greater good. He encouraged enrollees to "[take] time out to improve your mind in order that you might be a more helpful citizen while in Camp and thus learn how to be of more service to your community following the end of your enrollment period." Economic relief came for these men and their families, but so too did a steady diet of civics lessons.
The course list for the CCC camps was lengthy, usually checking in at twenty-six classes taught by fifteen different instructors. Instruction took many forms in what today might be called experiential learning. Enrollees received instruction via "demonstrations, illustrations, talks, lectures, and discussions" before continuing their learning in the field. Photographs from the National Archives and Records Administration show men from Co. 325 engaged in experiential education, such as using woodworking equipment to make camp structures. Later photos from 1942 show men taking a military vehicles auto mechanics class at a school near Rockville.
To find instructors for vocational courses, Long recruited men employed with Camp NP-2 as Foreman, CCC or Army administrators, and sometimes experienced enrollees themselves. For academic classes, Long either taught these himself or hired teachers, usually women, who were recent Howard University college graduates like Pansy Williams. Williams taught courses in African American History, Practical Mathematics, Reading, Writing, and English. For some enrolles, this was likely the first time they had learned African American History.
According to the camp newspaper, Williams was perhaps the most popular of all camp instructors. She, too, spoke fondly of her time as an instructor. She wrote in a published letter to the camp newspaper that enrollees were "considerate, cooperative, thoughtful, and even willing to have a woman tell them a thing or two." Enrollee John Gholson taught a carpentry class, where students constructed locker boxes for personal use. With Gholson's guidance, enrollee Leroy Thomas built a fourteen-foot long boat that was included in a University of Maryland exhibit of CCC products.
Finally, enrollees were able to shape their own educational experiences as well. For instance, enrolles were able to work with NPS historian T. Sutton Jett, future Director of the National Capital Region of the NPS, to craft some of the first public programming at the canal. Jett interacted with CCC enrollees regularly throughout this period as he developed "almost a hundred legends," meaning interpretive signage along the canal's first twenty-two miles.
Jett's reports also recommended the expansion of CCC work as it would help facilitate what he deemed to be the best course of action: re-watering the entire length of canal and offering boat tours to the public. CCC men were integral parts of these first NPS tours of the C&O Canal by leading mules along the towpath, manning the bow, and operating the canal locks. In essence, CCC enrollees were the canal's first living historians.
Building a Future: CCC Education Along the Canal by Dr. Josh Howard, PhD
Click here to view Dr. Howard's lecture on the CCC and the C&O Canal.
Read more articles about the CCC by Dr. Howard