The C&O Canal Trust announces the release of its new mobile app, "C&O Canal Explorer," to aid users in exploring the 184.5 miles and 20,000 acres of the C&O Canal National Historical Park. The app is available for download on both Android and Apple devices from their respective app stores.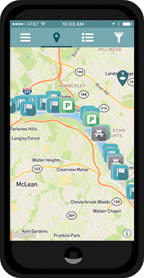 The mobile app includes over 600 points of interest in the Park mapped in a searchable format, allowing users to find at a glance hiking trails, historic sites, trailheads, parking, and more. The app also calculates the distance from a user's location to nearby amenities and points of interest, with the ability to view what lies both upstream and downstream of a current location.
The app was developed by the C&O Canal Trust, the official nonprofit partner of the Chesapeake and Ohio Canal National Historical Park, which works in partnership with the National Park Service and local communities to raise funds to preserve the Park for future generations and to broaden support through programs that highlight the Park's historical, natural, and cultural heritage and recreational opportunities.
"We are so thrilled to be able to offer a new way for the Park's visitors to experience the C&O Canal," Trust President Robin Zanotti said. "As the Park's official partner, we aim to improve the visitor experience in a variety of ways, and this app will enable visitors to explore the Park with the help of the devices they already have in their pockets. We anticipate the app will help users to discover aspects of the Park they never knew existed. We are excited to provide that opportunity."
C&O Canal Explorer is available for $0.99 a download, which will help the C&O Canal Trust maintain its high quality, keep its information up-to-date, and add new functionality. The app was developed in partnership with Cermak Technologies, Inc., with funding from the Maryland Heritage Areas Authority.
Several paid freelancers and approximately 40 volunteers assisted with the copywriting, photography, and GPS work needed to amass 600 points of interest on the map and in the app's database.
Future plans include the addition of merchants (hotels, bed and breakfasts, restaurants, and shops) to the map and search features, as well as a downloadable map that will enable the app to work even when the users' device is out of cellular range.
The app can be downloaded from the Google and Apple App Stores and here: https://www.canaltrust.org/plan/explorer-mobile-app/