Everyone likes to add personal touches to their home. That's what makes it a home. Now, think about an old home—in this case a C&O Canal lockhouse—that was built in 1832. And think about all the people who have lived in that home. And all the personal touches and new flooring and drywall and appliances and wallpaper and insulation that has been added over almost two centuries.
That's a lot of stuff.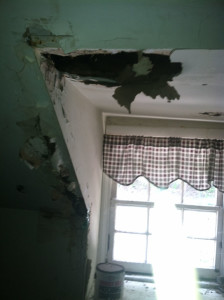 At Swains Lockhouse, located at Lock 21 on the Canal, all the "stuff" was getting in the way of the home's historic rehabilitation. In the coming months, Swains Lockhouse will be painstakingly restored to exactly the way it appeared in 1916 and will welcome guests as part of the C&O Canal Trust's Canal Quarters program. Before the rehabilitation can begin however, 174 years of improvements had to first be removed—carefully.
"Sometime you have to step back before you can go forward," said Craig Chenevert, Regional Historical Architect for the National Park Service. "The original 1832 home was a stone structure with two floors, a central stair and a roof. That's it. Not even a bathroom. To begin the rehabilitation, we needed to remove everything that has been added since then."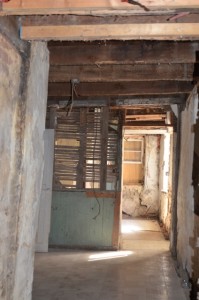 Chenevert, who evaluated the condition of the home for the interior demolition, worked with National Park Service Exhibits Specialists Brian Hixon and his team to carry out the work. Over the space of a week in July, the work crew removed gypsum board and wood stud partitions, two bathrooms and a "cobbled together" plumbing system, modern kitchen, sheet vinyl floors, insulation, electrical wiring and lighting fixtures, carpets, and an oil-fired furnace.
By week's end, Swains Lockhouse had returned to its stone wall beginnings, with two notable exceptions:
A small addition from the 1890s was retained and will be rehabilitated as a meeting place for the Canal Trust's Canal Classrooms program.
The original home included a small basement, but two centuries of Potomac River flooding has completely filled the space with silt from water running through the home.
Now the long rehabilitation of the newest Canal Quarters lockhouse can begin. A team of architects, historic preservation construction teams, and period interior designers are already at work on the transformation. You'll be meeting all of them in coming blog posts as Swains Lockhouse is returned to the way it looked in the past.
Next Time
Check back for our next post, which will discuss the difference between a rehabilitation and a restoration. Which one are we doing? See the post here!
Learn More
Be sure to visit our main Swains Lockhouse page to read all of our blog posts documenting the rehabilitation of this historic structure.
Make a Gift to Save Swains Lockhouse
Photo Gallery: Demolition