Tunnel Hill Trail
As an "overland" alternative to walking a half mile through the Paw Paw Tunnel, the Tunnel Hill Trail offers a walk through history and outstanding views of the Potomac River and tunnel gorge.
The two-mile trail begins from the downstream side with a series of uphill switchbacks.  It was in many of these same places above the tunnel that German and Irish immigrants blasted and dumped rubble for 14 years during construction. As difficult as conditions were, many workers brought along their families and they lived in tents or small wooden houses in the area.
Add to Itinerary
You can now create your own itineraries to guide your C&O Canal exploration, or you can copy one of ours! Lean more about Itineraries.
Mile Marker: 154.8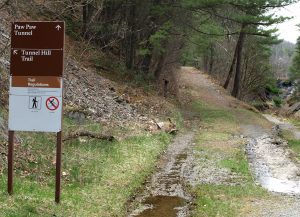 Photo by: Jim Rowan
Nearby Points of Interest:
Social Media Share: