Superintendent's House
About a half mile from the south (upstream) entrance to the Paw Paw Tunnel, adjacent to the tunnel parking area, is a frame house that once belonged to the superintendent for this section of the Canal. Canoers have access to the Potomac here and overnight camping is permitted.
Those who are looking to replenish supplies can access Rt. 51 and head over the river into the small town of Paw Paw, West Virginia. Paw Paw was once a thriving headquarters for apple-packing and a station on the B&O Railroad.
Add to Itinerary
You can now create your own itineraries to guide your C&O Canal exploration, or you can copy one of ours! Lean more about Itineraries.
Mile Marker: 156.1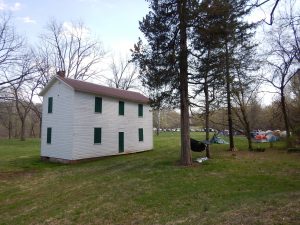 Photo by: PATC GPS Rangers
Nearby Points of Interest:
Social Media Share: