North Mountain Campsite
The name of this campsite comes from the high ridge across the Potomac River. Many people here also know it as Fairview Mountain. The base of this mountain was the home of the Evan Shelby, and important figure on the frontier during the French and Indian War. Shelby and his family lived here beginning in the late 1730s. He and his wife Letitia Cox of nearby Indian Springs named the settlement "Maiden's Choice."
Shelby traveled with a band of Wachachey's Cherokee warriors in 1757 and returned with four scalps and two prisoners. Later he was involved with Forbe's march against Fort Duquesne.
Later in Shelby's colorful life, he returned to start a trading business at his home near North Mountain—only to lose much of his inventory in a fire. Shelby assisted Mason and Dixon in their 1765 survey of Pennsylvania's southern boundary. In 1774, Shelby and his son Isaac joined Virginia forces and Lord Dunmore's expedition to fight the Indians in the Battle of Point Pleasant. During the Revolutionary War, he and sons led a campaign against the Chickamauga Indians in Tennessee.  Isaac Shelby later became the first governor of Kentucky.
Please Note: Potable water may not be available at each campsite. Water is treated with iodine. Please plan to have water purification tablets with you. Water is turned off from November 15 to April 15 each year.
Please visit the C&O Canal National Historical Park's website for detailed camping information, or you can call 301-739-4200 with any questions. Site reservations can be made via the Recreation.gov website.
Add to Itinerary
You can now create your own itineraries to guide your C&O Canal exploration, or you can copy one of ours! Lean more about Itineraries.
Mile Marker: 109.6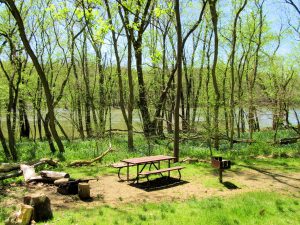 Social Media Share: