Monocacy Aqueduct
The eleven aqueducts along the C&O Canal are made from different stone - red sandstone, gray limestone, white granite, white and pink quartzite - each reflecting light differently.
The Monocacy Aqueduct, with its seven arches spanning 516 feet, is the largest aqueduct in the C&O Canal National Historical Park. The white stones, cut with large saws, were brought from a nearby quarry. They were painstakingly hand-shaped by masons, then carefully placed together to build this impressive structure. The engineers who designed them chose to make the aqueducts decorative, as opposed to leaving them with a more utilitarian look.
Standing on top of the Monocacy Aqueduct, looking at early morning fog rolling off the Potomac, you imagine a canal boat coming upon this aqueduct in the 'middle of nowhere'. How magnificent to look upon this 'Work of Art'. Morning brings a quiet grayish white, turning to a harsh white by mid-afternoon, and changing to a soft gold with hints of magenta at sunset. Each time of day sets a different mood.
The next time you visit the Monocacy Aqueduct take the time to observe this work of art, take in its beauty and grandeur, and study the changing colors of light reflecting off its stones.
Add to Itinerary
You can now create your own itineraries to guide your C&O Canal exploration, or you can copy one of ours! Lean more about Itineraries.
Mile Marker: 42.2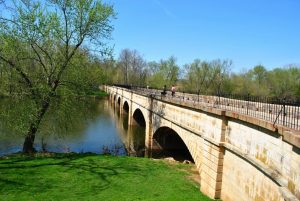 Monocacy Aqueduct Credit: Katie Stansbery
Social Media Share: