Lock 68
Lock 68 is just above the path down to Potomac Forks, the point in the river where the North and South branches of the Potomac join for the journey to Washington, D.C.
The lock itself was originally constructed of composite materials, and much of it has since been replaced by concrete.
Add to Itinerary
You can now create your own itineraries to guide your C&O Canal exploration, or you can copy one of ours! Lean more about Itineraries.
Mile Marker: 164.8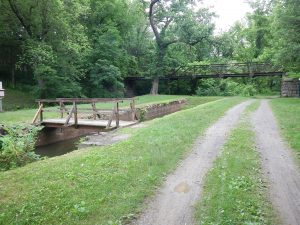 Photo by: PATC GPS Rangers
Nearby Points of Interest:
Social Media Share: