Licking Creek Aqueduct
Built between 1836 and 1838, the Licking Creek aqueduct is the first of six single-arch aqueducts on the line of the canal and the longest of the Canal's aqueducts. The Canal company described the 90-foot aqueduct as "one of the longest, if not the longest aqueduct in the United States," although later the 297-foot Cabin John aqueduct was constructed at mile 7.6. The aqueduct's first use was in April 1839.
Add to Itinerary
You can now create your own itineraries to guide your C&O Canal exploration, or you can copy one of ours! Lean more about Itineraries.
Mile Marker: 116.1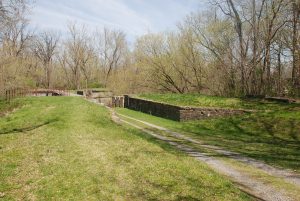 Photo by: PATC GPS Rangers
Social Media Share: