Killiansburg Cave
The Battle of Antietam is well known for the events that unfolded on September 17, 1862, and the long-lasting importance it had over the rest of the Civil War. Antietam represents the bloodiest one-day battle in American history, the end of Lee's momentum carrying his first Northern Campaign, and the victory that Lincoln needed to decree the Emancipation Proclamation. The Canal has its own connection to the events of that day as it provided safety to some of the residents of nearby Sharpsburg, Maryland.
After Lee's army retreated west across South Mountain and settled in Sharpsburg, the residents must have been able to feel the tension building. Some left their homes and found refuge from the events that were about to unfold in Killiansburg Cave, located at mile marker 75.7. The cave was the perfect location to hide and is situated just upstream from the Ferry Hill Visitor Center at the base of a cliff, facing away from town. From there, they didn't have to worry about being hit by any incidental fire, but I'm sure that hiding in the cave that day may have been the scariest day of the townsfolk's lives.
Even if they didn't have a fear that they would die, their imagination must have been running wild not knowing what would await them when they returned to their home. When they left the cave, they might return to Sharpsburg to find their homes wrecked, crops destroyed, and livestock dead. Not being able to see the battle, they could only image which side was winning and feared finding the bodies of those slayed lying where they had fallen. The buildings that weren't destroyed may have been commandeered to aid the winning side as headquarters, hospitals or whatever their needs might have been. Every time I pass by the cave, I envision the residents hiding there; being able to hear the sounds of war, not knowing what of their lives was going to be left when they returned home. Next time you hike, jog, or bike past, take a minute to think what Killiansburg Cave meant to the resident's of Sharpsburg 150 years ago - a place of refuge from the bloodiest battle in our country's history.
Add to Itinerary
You can now create your own itineraries to guide your C&O Canal exploration, or you can copy one of ours! Lean more about Itineraries.
Mile Marker: 75.7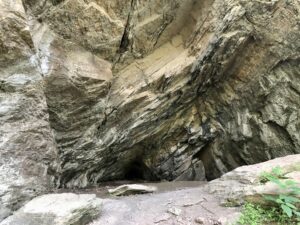 Photo by Trust Staff
Social Media Share: