On September 17, the C&O Canal Trust welcomed nearly 150 guests to the Historic Great Falls Tavern for the largest fundraising event of the year, Park After Dark. The event, which benefits the C&O Canal National Historical Park (NHP), raised a total of $223,750—surpassing the Trust's fundraising goals and previous Park After Dark events. Of the funds raised at the event, $55,000 will directly support the Park's work to preserve and protect rare, threatened, and endangered plants.
In addition to celebrating the return of Park After Dark for the first time since 2019, the Trust celebrated its 15th anniversary and accomplishments as the official nonprofit partner of the C&O Canal NHP. Special guests included park leadership, representatives from Senators Chris Van Hollen and Ben Cardin's offices, Maryland State Delegate Marc Korman, and Eva the Canal mule.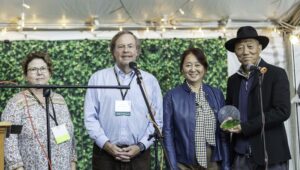 The William O. Douglas Stewardship Award was presented at Park After Dark to longtime supporters of the Trust and park, Daofeng and Angela He and the Daofeng & Angela Foundation. Their deep commitment to preserving the park and sharing its history with visitors, now and into the future, continues to be an inspiration. Daofeng and Angela's generosity has helped to fuel the Trust's growth and impact the park in numerous ways. To date, they have sponsored 50 benches in the park. 
This year's Park After Dark featured entertainment by Troy Engle & Southern Skies,  and food by Corcoran Caterers. Inspire Hearts Fundraising team Bobby D. Ehlert and Erin Ward were emcees for the event. Attendees had the opportunity to enjoy s'mores around the campfire and approximately 35 people attended this year's night hike to the Great Falls Overlook.
Thanks to all the volunteers, attendees, and sponsors for making this event an incredible success.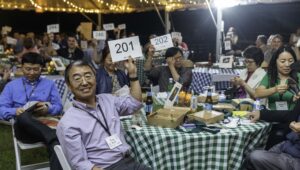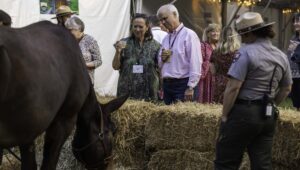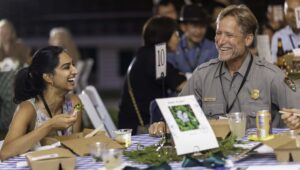 Images by Turner Photography