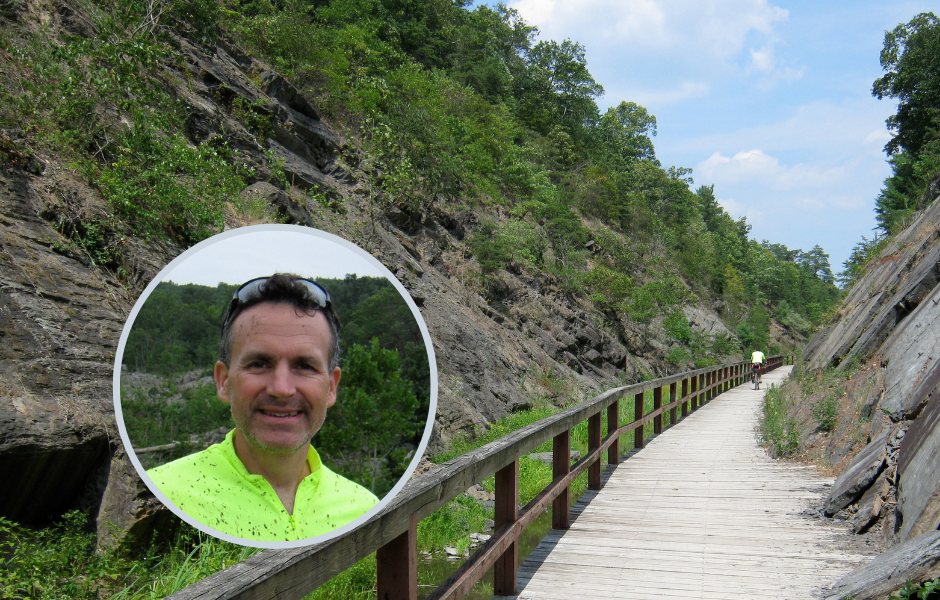 Celebrate your love for the C&O Canal by sharing your personal story about the Park. Each story will take a look at a person's relationship with the C&O Canal. Whether an NPS ranger, a volunteer, or a visitor, everyone has a story to tell about the canal! If you want to share your story, fill out the form below, email it to us at [email protected] or post it on your social media feeds with the hashtag #MyCanalStory. We could use your story here on our website!
Jim Shea, Author of Get Up and Ride
Jim Shea is author of Get Up and Ride. In this Canal Community Story, he shares an excerpt from his book which is an account of his experience riding the entire length of the C&O Canal. You can purchase his book on Amazon here.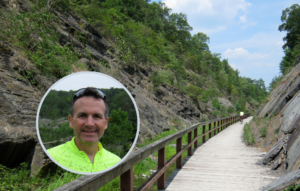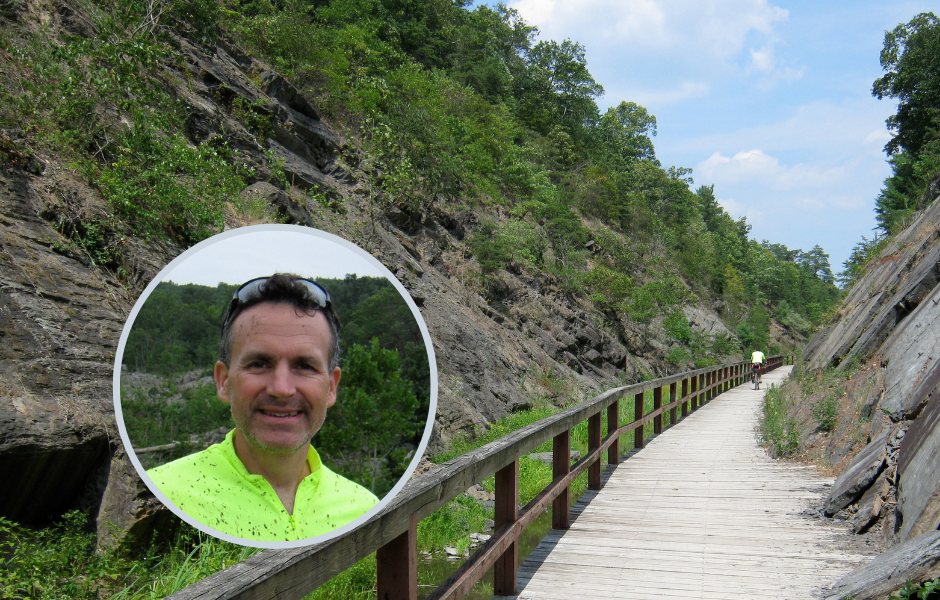 Marty and I left the Antietam Visitor's Center and stepped out into the heat, fully exposed to the sun. We were at the highest point in the battlefield and could see for miles in every direction. We looked out over the Cornfield – with the stalks nearly as high as they would have been in September – and were amazed that so many men could die so quickly in such a small area. We sensed the gravity of what had happened on these fields over 150 years ago.
We rode our bikes around the entire battlefield. By now it was over ninety degrees and humid. We saw the sites of the other battles, including "Bloody Lane," where 5,500 men perished in the morning in a fierce firefight. We saw many monuments built as tributes to each of the brigades decimated that day. After about an hour, we were really hot, and Marty took cover under a tree and sucked on his water bottle.
"We gotta get outta here," he said.
I eased my bike down the hill and joined him under the tree. "Yeah, it's really hot."
I got out a map and saw what looked to be a shortcut which would take us back to the C&O trail. Marty wanted to simply retrace our path back to where we originally exited the trail, but I convinced him to try the shortcut.
We began pedaling out in the heat. What the map did not show was the changes in elevation on my "shortcut." The road took us up a huge hill – I made it about halfway up and then had to walk my bike. During the ascent, the skies started to darken. Suddenly, a massive thunderstorm broke out.
We were immediately soaked. Then the lightning started, and the thunder was deafening. Things went from uncomfortable to dangerous in less than a minute. After we crested the top of the hill, we rode our bikes downhill in the driving rain, looking for cover.
The first building we passed was a dilapidated house with a covered porch on the front. I had gone on Appalachian mission trips with my sons for several summers, and we often worked on houses that looked like this one. Today, this house would save us.
We decided we needed to get on that porch, no matter who or what was in the house. Boldly, we carried our bikes up on the porch and breathed a sigh of relief at being out of the rain and lightning.
Once we'd caught our breath, we peered in through the front windows. No sign of life. We knocked on the door, and a few seconds later, a woman in her fifties came out, followed by an elderly woman who we quickly determined was her mother. We introduced ourselves and explained our situation. The younger woman, Janet, was extremely gracious and immediately went inside and reappeared with two bottles of ice-cold water – just what we needed!
We told her about our trip. The elderly woman watched us but didn't speak. Janet told us that her mother had dementia. Janet worked at the Maryland state maximum security prison in nearby Hagerstown, Maryland, and began to tell us about some of the prisoners and several harrowing escape attempts. It was a great conversation and a wonderful chance encounter.
As we conversed, the rain eased up and the thunderstorm passed through. We asked Janet about the best way to get back to the C&O Canal trail. She pointed to the route and explained it, which sounded a bit complicated and involved several turns. Marty and I looked at each other and nodded – we were pretty sure we'd gotten it.
Just before we left, the elderly woman spoke! She said something about the directions to the trail:
"Trail… miss… back up hill… wrong way… long time…"
She was hard to understand, and we tried to make out what she was saying.
"Miss… trail… hill…road… long way back…"
Marty and I could not make sense of her words.
"Hey Mom, these guys need to get on their way," Janet said to her mother dismissively.
We thanked them both, then got on our bikes and headed down the road.
We found the first turn Janet had indicated, and then the second. We headed downhill to what we thought would be the C&O trail. But we saw no sign or indication of the trail.  Then the road started heading uphill, and we followed it for a while – no trail. Marty stopped. I stopped behind him.
"Jimbo, remember what that old lady said?"
"Not really, I couldn't make it out," I replied.
"Something about missing the trail and the road heading back uphill?" said Marty.
"Yeah…"
"I think she was saying that it was easy to miss the trail, and if we missed it, the road would head back uphill and we would end up riding on the road in the wrong direction for a long while," said Marty.
"Yeah, but she didn't know what she was talking about."
"Well, this feels like what she was talking about. Let's head back down."
We aimed our bikes back downhill and, sure enough, we found a small sign marking the trail at the bottom of the hill.
"That old lady was right!" said Marty.
"Probably saved us a bunch of time," I said.
By now, with the Antietam stop, my mis-directions, the rain and the stop on the porch, we were running late. It would be getting dark by the time we'd arrive at our stop for the night. We pedaled hard toward Harpers Ferry.