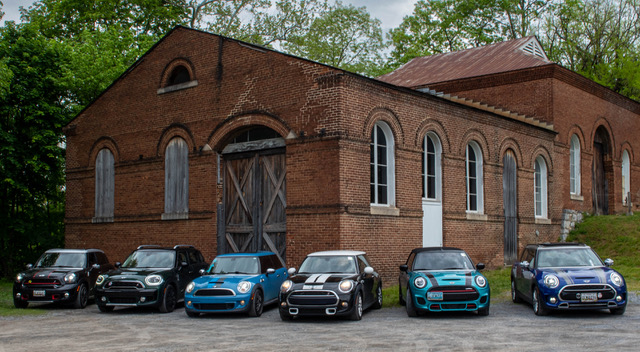 Celebrate your love for the C&O Canal by sharing your personal story about the Park. Each story will take a look at a person's relationship with the C&O Canal. Whether an NPS ranger, a volunteer, or a visitor, everyone has a story to tell about the canal! If you want to share your story, fill out the form below, email it to us at [email protected] or post it on your social media feeds with the hashtag #MyCanalStory. We could use your story here on our website!
Maryland MINIs: Canal Community Day Volunteers
C&O Canal Trust: Who are the Maryland MINIs? What do you do /  what is your mission?
Maryland MINIs: Maryland MINIs was created when a small band of MINI owners formed our group on social media in late 2021. Since then, we have grown to 236 active members, representing Mini models from over three decades. Not satisfied with just standing around in parking lots admiring our Minis or trading posts over the internet, our mission is to be a bona fide "community on wheels" dedicated to exploring all the beautiful parts of Maryland and surrounding mid-Atlantic area and making a positive impact on the community that we share.  We are a diverse group of mature, friendly, and fun-loving people of all ages and life experiences who share the passion for our unique cars. Our events usually consist of about 15 to 20 cars, depending on the weather and where our adventures take us, however an Event to the GUINNESS Brewery in Baltimore drew over 40 cars, from all regions of our great State.  
C&O Canal Trust: What inspired you to volunteer with the C&O Canal Trust?
Maryland MINIs: Part of the mission of Maryland MINIs is the pride of being part of the Maryland tradition of giving back. Maryland MINIs Administrators create spontaneous events that invite members to be active in our State and local communities. These events allow our members to enjoy a brisk and satisfying motoring experience, an opportunity for membership bonding, as well as the pride and accomplishment of helping to make Maryland a better place.
C&O Canal Trust: Describe your experience at the Canal Community Days event. How did you come to learn about the event? What project(s) were you responsible for? What did you enjoy most about the event? 
Maryland MINIs: Maryland MINIs subscribes to many non-profit organizations, which enables us to learn about and participate in community events that are a good fit what for what we feel we can offer. Obviously, we are "transportation nuts" by nature, so it was intriguing to visit and help preserve another form of transportation that was such a part of our state's history.
Our group was assigned to the general gardening group, and we helped to rehab a picnic area.  We weeded, spread rock dust, planted flowers, and mulched.  The result was a great location for visitors to the canal to come, picnic, and enjoy the beauty.
The beautiful drive to Williamsport via ALT Route 40 to the winding roads of Route 68 to the Canal Area fed our enjoyment of our hobby and the wonderful park and buildings served as a great backdrop for photographs of the cars that we love. 
C&O Canal Trust: What is your favorite section / location in the Park?
Maryland MINIs: Currently Georgetown, Great Falls, and Williamsport, Maryland are three C&O Canal locations that are favored by Maryland MINIs. However, we will be planning additional drives and activities at other locations, including Cumberland, Maryland in the very near future.  MINI USA has declared August 26th  "Wave to Friends," or "WTF day," in a move to resuscitate the tradition of Mini drivers waving to each other on the road. The so-called "MINI wave"—which amounts to a physical expression of brand loyalty— has fallen out of style of late. So if you see a pack of MINIs on the road "give us a wave"!!
C&O Canal Trust: What does the C&O Canal mean to you?
Maryland MINIs: MINIs have their own history and legacy in car folklore, so the C&O Canal, with its rich place in the transportation history of our region was a great fit for our Car Club to resonate with.  The fact that it has been strategically associated with many historical events makes it even more important to preserve the canal and highlight the economic, industrial, and commercial history of our region and Country for future generations.
Maryland MINIs C&O Canal Crew (who participated in the cleanup)
Victoria Bremseth
Tre Clark
Mark De Fries
Michael Fewster
Tammy Fewster
Debbie Huber
Jerame Puffenbarger
Dan Nielsen
Bette Phelps