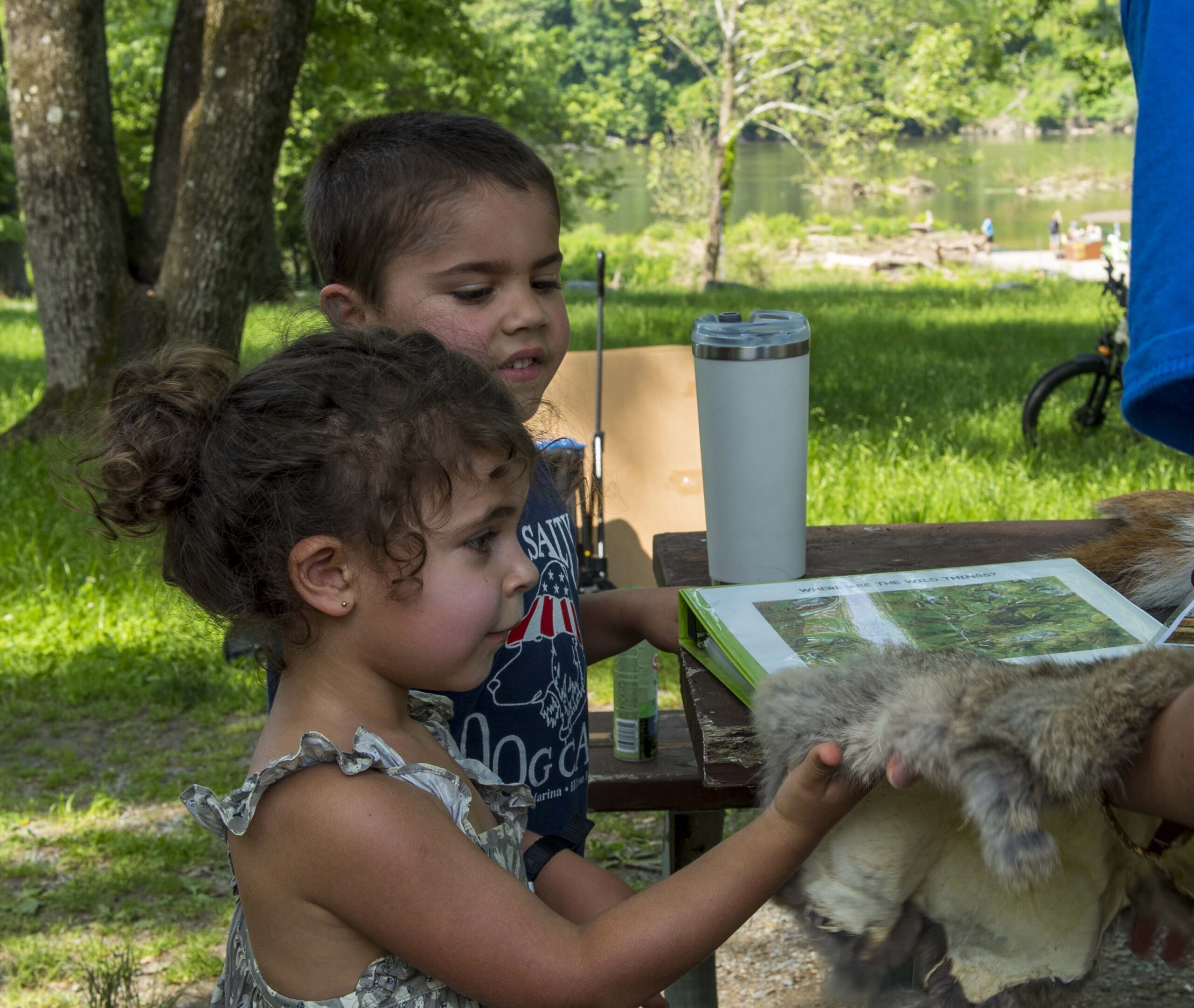 Photo Credit: Francis Grant-Suttie
Despite the record heat, which made it feel more like a mid-summer day, the C&O Canal Trust's celebration of Kids to Parks Day at Fletchers Cove was filled with smiles and enthusiastic participants. Children and their families were greeted by staff from the Trust and from WUSA9 who volunteered to help with programming for the day. Children were invited to complete Junior Ranger booklets and participate in a variety of activities. 
The Kids to Parks Day activities were designed to help children develop environmental stewardship skills, learn about Leave No Trace and decomposition, and the rich cultural history of the C&O Canal and the land. One of the most popular activities highlighted the Indigenous People of the Potomac River and included animal pelts such as deer, squirrel, otter, rabbit, skunk, and muskrat for families to see and touch. 
Many children and families worked on the C&O Canal Junior Ranger activity book, which was available in both English and Spanish versions. Our first Junior Ranger of the day came with his dad to help clean up trash. After earning his badge, he stayed and helped other children with the activities. A pair of sisters worked with each other and their parents to complete their Junior Ranger challenges. Many people, both children and adults, stopped to take photos at our Junior Ranger cardboard stand-ins.
Another exciting activity available to families at Fletchers Cove was touring the beautiful Abner Cloud house, one of the oldest structures in the C&O Canal NHP. The Colonial Dames of America, Chapter III, provided tours of the house for Kids to Parks Day. 
Kids to Parks Day ran simultaneously with a clean-up as part of WUSA9's #EnvironmentMatters initiative to beautify parks, trails, and waterways across the DMV. Volunteers helped to collect garbage from Fletchers Cove—popular with kayakers, picnickers, cyclists, anglers, and dog walkers.  
Kids to Parks Day is an annual day of outdoor exploration at local, state, and national parks and public lands across the country. It is an initiative of the National Park Trust and is always hosted on the third Saturday of May. This year marked the 12th anniversary of Kids to Parks Day, which fosters future outdoor enthusiasts and helps develop the next generation of park stewards by engaging kids in memorable outdoor experiences.  
We're grateful to everyone who participated in making this annual event such a wonderful success!