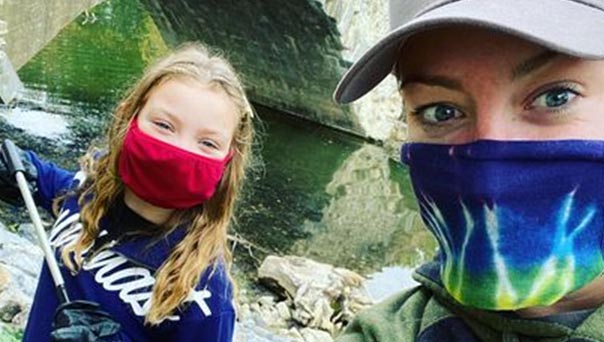 Celebrate your love for the C&O Canal by sharing your personal story about the Park. Each story will take a look at a person's relationship with the C&O Canal. Whether an NPS ranger, a volunteer, or a visitor, everyone has a story to tell about the canal! If you want to share your story, fill out the form below, email it to us at [email protected] or post it on your social media feeds with the hashtag #MyCanalStory. We could use your story here on our website!
Steff Smith, Leader for Devils Backbone Brewing Company Volunteer Stewardship Program
My name is Steff Smith and I am the Senior Sales Analyst for Devils Backbone Brewing Company. We are an alcoholic beverage company with a HUGE passion for the outdoors, people and leaving the world a better place than we found it. I don't just live in the numbers, though. I am the stewardship coordinator and Women in Beer lead for the company as well. In so many words, I take the passion I have for volunteering with our parks, waterways and trails and use it to organize stewardship events for our whole company.
A little about the Devils Backbone's Stewardship program for you. This is a core value of our mission and company values. We commit to a certain number of hours as a company each year and incentivize our employees to complete those hours by donating a dollar amount in their name to the nonprofit of their choice. When an employee completes 8 hours of volunteering in a year, we then donate $100 to their passion point nonprofit. This has been something we have been very proud of for years and are going to continue to push for years to come. Our goal for this year is 1,000 hours in 2022!!
When I joined Devils Backbone about 3 years ago, I saw this as an opportunity to get my family and friends involved as well. What could be better than getting my 11 year old daughter out in the wilderness to clean up our world?! (With some complaining, of course.) It has been a great bonding experience for us, and we enjoy working with the C&O Canal Trust at least once a month in the summer. These were not my first encounters with the Trust, however. I first volunteered with the Trust in my mid-20s at Weverton, Maryland, painting benches. My employer at the time had a relationship with the Trust, and every year at least once, we would make time to come help keep the parks looking beautiful.
I can not compare the feeling after having helped to clean up our parks with anything else. Sure you get dirty, you get tired, you may or may not get some bumps and bruises – but seeing the amount of waste you can get out of natures habitat is truly rewarding. This year, a professional goal of mine is to get our Team at Devils Backbone to complete 1,000 hours of volunteer service. A personal goal of mine is to get my daughter and her friends involved at least once a month in the summer time – out of the phones and into the outdoors to help our world!!