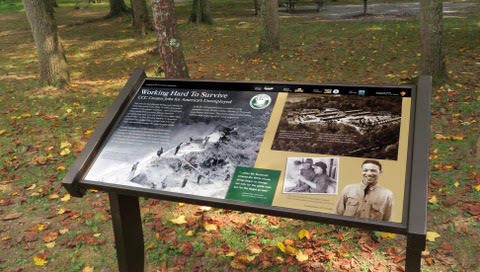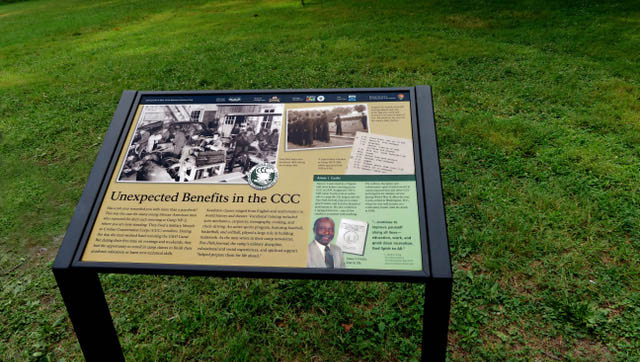 Two wayside exhibits, documenting life at Civilian Conservation Corps (CCC) camps NP-1 and NP-2 on the Chesapeake & Ohio Canal during the Great Depression were the recipient of a National Association for Interpretation (NAI) award in December 2021.  The exhibit project, created by Iondesign, owned by Ruth Bielobocky of Frederick, MD, was one of three such awarded entries in the "outdoor media" category.
Camp NP-1 and NP-2 were two CCC African American camps in Maryland dedicated to restoring the former waterway for recreational use from 1938-1942. The exhibits describe daily life at the camps and the rigorous work that was required as well as the many academic, vocational and social opportunities that were offered to CCC enrollees outside of their primary work duties. The exhibits incorporate the use of archival photography, daily schedules, excerpts from camp journals, and a profile of one of the CCC enrollees.
Ms. Bielobocky served as project manager and art director. Scott Grove acted as exhibit planner and copywriter. Josh Howard, as the historian consultant.
NAI is the leading professional organization dedicated to advancing the profession of heritage interpretation and serves approximately 7,000 members in the United States, Canada and 30 other nations that are associated with parks, museums, historic sites and more.
The wayside project was guided and funded by the C&O Canal Association, with additional support from the C&O Canal National Historical Park, C&O Canal Trust, Heritage Montgomery, and Maryland Heritage Area.