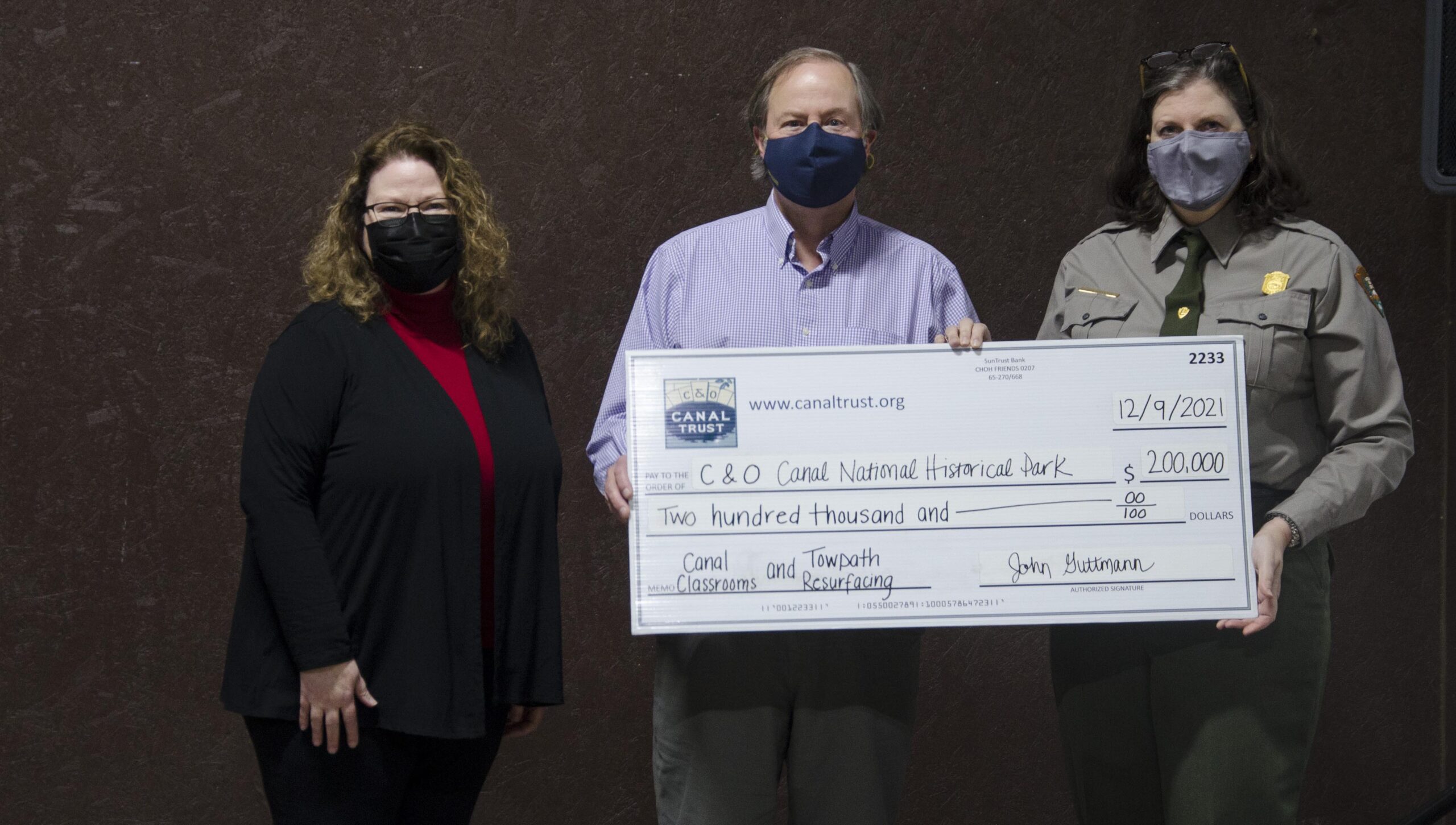 On December 9, 2021 the C&O Canal Trust presented a gift of $200,000 to the C&O Canal National Historical Park (NHP). "The C&O Canal Trust provides the ways and means for individuals to contribute directly – through philanthropy, volunteerism, and advocacy – to the Park we love today and to the one we will leave to the future. This gift represents a couple of years of this activity, from our community of donors who give in support of the Park's Canal Classrooms education program and Towpath Resurfacing efforts," said John Guttmann, Board Chair of the C&O Canal Trust. "The C&O Canal Trust provides critical support for our work. Funding these programs is especially important because they provide a legacy for future visitors to enjoy the Park for years to come," said Tina Cappetta, Superintendent of the C&O Canal National Historical Park.
The Park's Canal Classrooms program provides experiential learning opportunities for K-12 students in Great Falls, Williamsport, and Cumberland. This is accomplished via STEAM-based curriculum (Science, Technology, Engineering, Arts, Math) taught by the Canal Classrooms Corps (CCC), a cadre of retired school teachers. Since 2013, over 60,000 students have participated in Canal Classrooms, including many who are economically-disadvantaged and attend Title 1 schools. Funds raised through the C&O Canal Trust provide support for teaching stipends, transportation costs, and training workshops. While barriers to participation in in-person programs continue due to the COVID-19 pandemic, Canal Classrooms serves school audiences through virtual learning opportunities for different ages, grade levels, and interests. Along with virtual resources for youth and families, the program provides useful resources for local educators to further engage with their students.
The C&O Canal National Historical Park's Towpath Resurfacing efforts allow visitors to enjoy the 184.5-mile length of the Park more safely. Funding this project supports the removal of rocks, tree roots, and other obstacles, and adds a new surface of crushed stone dust, providing a smooth, level surface. To date, 65 miles of towpath have been resurfaced. Continued support for this project will ensure that the towpath remains accessible and safe for all visitors for years to come.
"As a Park-lover and supporter, and as Board Chair of the Trust, I really appreciate the opportunity to work with our colleagues at the National Park Service, and thank them for their efforts to protect and preserve the Park we all care so much about," said Guttmann. "We also cannot forget all of the generous donors who make much of this work possible."