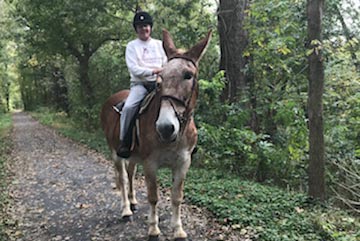 To celebrate the 50th anniversary of the C&O Canal becoming a National Historical Park, we are featuring 50 Canal Stories throughout 2021. Each story will take a look at a person's relationship with the C&O Canal. Whether an NPS ranger, a volunteer, or a visitor, everyone has a story to tell about the canal! If you want to share your story, submit it to us at the link here, email it to us at [email protected] or post it on your social media feeds with the hashtag #MyCanalStory.
Kathy Wilt, Visitor to the C&O Canal and Mule Owner
C&O Canal Trust: What is your relationship / history with the C&O Canal?
Kathy: As a child I'd go bike riding and horseback riding along the canal.  It's a great trail for conditioning horses.  I also enjoy kayaking, walking, and biking in the park.  
C&O Canal Trust: When did you first learn of the C&O Canal?
Kathy: Having grown up near the C&O Canal, it's easy to take it for granted.  It's so accessible, and I appreciate what's been done to improve that.  The new parking lot at Point of Rocks is amazing!  I also appreciate the new boat ramps and the repair work that is done after flooding. 
C&O Canal Trust: You recently purchased a mule! What is her name?
Kathy: I purchased MayBelle in March.  She's a Belgian Cross who worked as an Amish draft mule and is a little over 16 hands high.  She loves snacking on apples.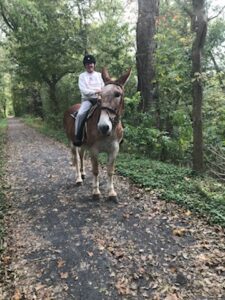 C&O Canal Trust: Can you tell us about that experience and what prompted you to get one?
Kathy: Before MayBelle, I rode the towpath with my first mule, Sweet Thing, for 27 years.  Having ridden both horses and mules, I find that mules make excellent riding companions.  They're intelligent, strong, cooperative, and sturdy.  It's easy to see why they were the favorite animal for pulling the barges.  They also live longer than horses.
It's not a competition, though.  Horses and mules get along very well.  On Sweet Things's first night on my farm, she jumped her 4 foot high stable door just so she could meet my thoroughbred.  Now, MayBelle is a beloved companion of my pony, Little Teddy. 
Although passing trains don't bother MayBelle, she gets nervous when cyclists move around her quickly.  I always appreciate people who move gently and slowly around her.  Slowing down and seeing a mule on the towpath, you get a chance to enjoy the towpath from a historical perspective as it was over 100 years ago.
C&O Canal Trust: What is it like riding mules on the towpath?
Kathy: Riding mules on the towpath allows me to see it like the people who worked here so long ago.  I love to think of the days of barges being pulled by mules like mine.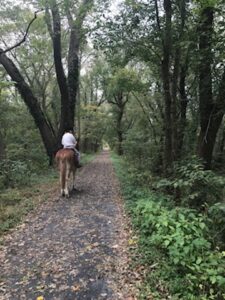 C&O Canal Trust:How do you take care of MayBelle?
Kathy: MayBelle lives on my farm with the other animals.  There's shelter and plenty of grass for her.  I also provide her with grain, hay, and treats.  A farrier will care for her feet.  Mule shoes are longer and narrower than horse shoes.
C&O Canal Trust: Do you have a favorite memory of the Park?
Kathy: All of my memories in the C&O Canal park are favorites.  It's wonderful seeing eagles nesting in sycamore branches.  I love riding in the fall and enjoying the golden, yellow leaves.  Winter is beautiful, especially when there is snow.  Spring brings bluebells and wood ducks.
C&O Canal Trust: What is your favorite place or section of the C&O Canal?
Kathy: The section between Harpers Ferry and Dargans Bend has a beautiful view of the river and the land across it.  I love being able to see down the Potomac for a distance.  There's also the train track on the other side of the canal.  It helps tie you to the history of the place.
C&O Canal Trust: Finally, what does the canal mean to you?
Kathy: The C&O Canal National Historical Park is a natural place with great beauty.  Its proximity means I can enjoy it often in many ways.  It's a good place for federal recreation money to go to, and it's a good place for nature and history.