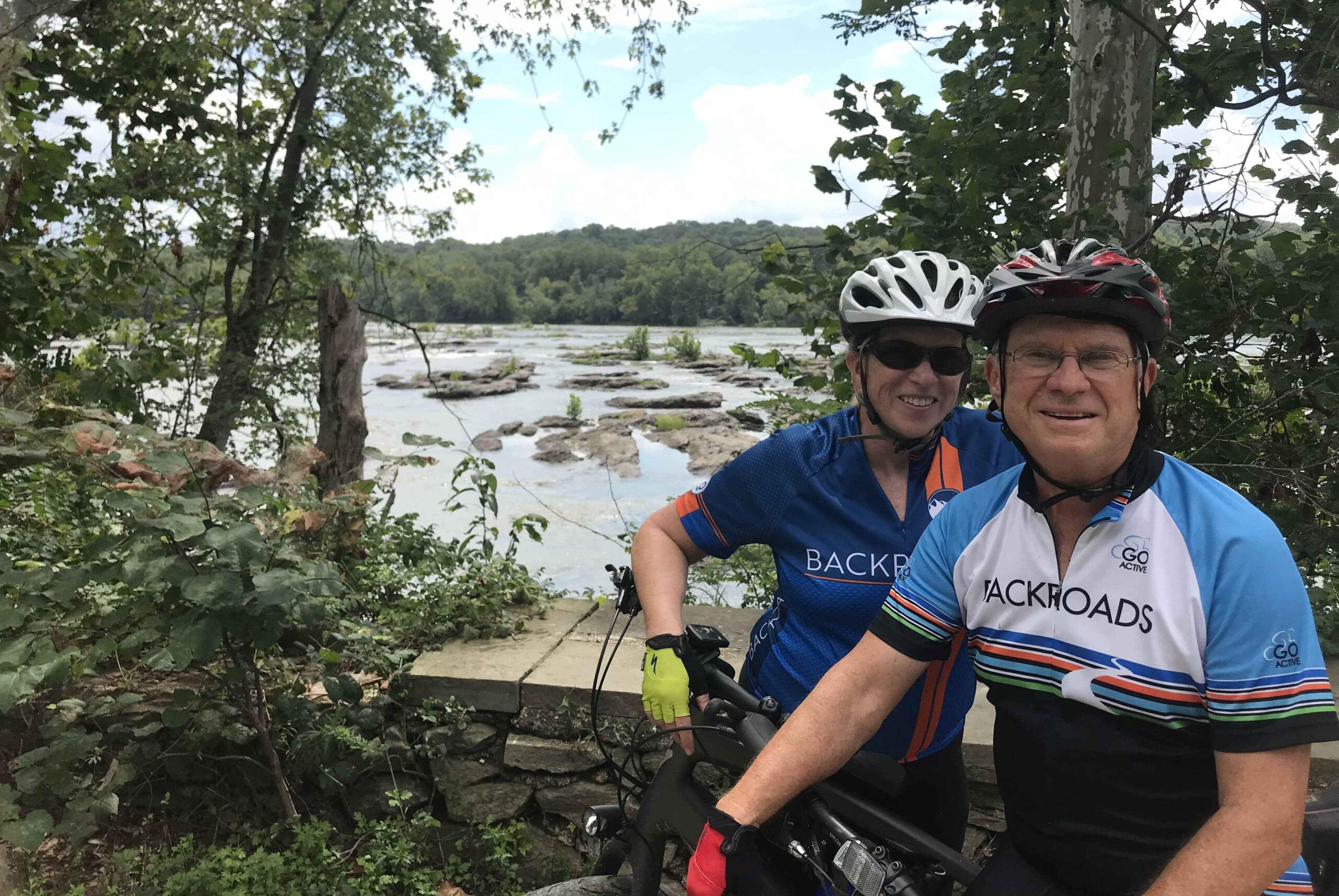 To celebrate the 50th anniversary of the C&O Canal becoming a National Historical Park, we are featuring 50 Canal Stories throughout 2021. Each story will take a look at a person's relationship with the C&O Canal. Whether an NPS ranger, a volunteer, or a visitor, everyone has a story to tell about the canal! If you want to share your story, submit it to us at the link here, email it to us at [email protected] or post it on your social media feeds with the hashtag #MyCanalStory.
Patricia Mayernik, Bike Rider on the C&O Canal National Historical Park
Patricia Mayernik: For many years we've enjoyed extended biking vacations. We've traveled in the US and Europe biking on backroads and exploring small towns. With those trips, frankly, we were spoiled. The companies arranged the hotels and meals. Refills for snacks and water were offered along the way. There was even a support van for issues from falls to flats. When the pandemic canceled our trip in 2019, we decided on an alternate activity. Let's bike the entire 184.5 miles of the C&O Canal Trail. Being less outdoorsy than most people who take on that challenge, we chose to do it in segments. We did the sections we could reach within a day and usually biked around 20 miles round trip.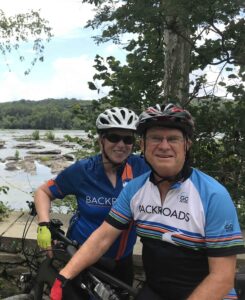 The first lesson was to plan each trip around the parking lots. Additionally, if you plan it right, occasionally there is a restaurant for lunch at the mid-point. Of course, PB&J makes a good alternative. Exploring sections of the trail beyond our usual Brunswick to Harpers Ferry was fascinating. We also enjoyed reading about the history with the book, "Secrets of the C&O Canal." Eventually, we reached a point where the drives were long and we decided to celebrate our 44th anniversary by completing the northwest segments over a couple of days.
We based our overnight stays at a B&B in Berkley Springs, WVA as it is convenient to the trail. The drive to the trail parking was for our week was about an hour. As a bonus, Berkley Springs has natural hot springs for soaks and lots of options for a massage.
Day one found us on the Western Maryland Rail Trail for the "out" with plans to use the C&O for the "back." The early arrival of a late afternoon thunderstorm altered our day and we decided to turn back short of our goal. We arrived drenched and muddy at our B&B. Parking our shoes on the porch, our next priority was to take a shower and to rinse our bike clothes in the sink.
On day two we had even more challenges. There were plenty of puddles to dodge. The storm had also downed a few trees across the path requiring us to lift our bikes over their trunks. We persevered until we reached the entrance to the Paw Paw Tunnel. The next important lesson was to check the trail website for issues. If I had I would have learned that the south-eastern approach to the tunnel was closed for repairs. As we were just a short distance from our lunch break, we decided to take the detour, not appreciating how steep or long it would be. Pushing our bikes over the small mountain was frustrating and fatiguing. The problems compounded when I fell and scraped up my knees and elbows. As we downed our much needed lunch in Paw Paw, we called a taxi for a lift back to our car. We were willing to lock the bikes and drive to pick them up, but miraculously the driver had a bike rack on his mini-van. Clearly we weren't the first in the area to need a lift.
Day three was the final coup de grace for our goal of reaching Cumberland later in the week. We set out towards Old Town from the Paw Paw Tunnel trailhead on the still muddy trail. About halfway to our lunch break, Bob's bike got a flat. Foolishly we had no repair kit, and that was another important lesson. He insisted he could walk it back to the car. Exhausted, we drove back to Berkley Springs and enjoyed a soak and massage. Over lunch, we agreed to postpone the last segments and headed home early.
Many lessons were learned in those three days. Subsequently, we returned for clear skies and a flawless two day ride with an overnight in Cumberland to complete our goal. Our ability to laugh at the hardships and persevere for three days made an otherwise challenging trip a fun memory. I think we'll make it to our 45th Anniversary.