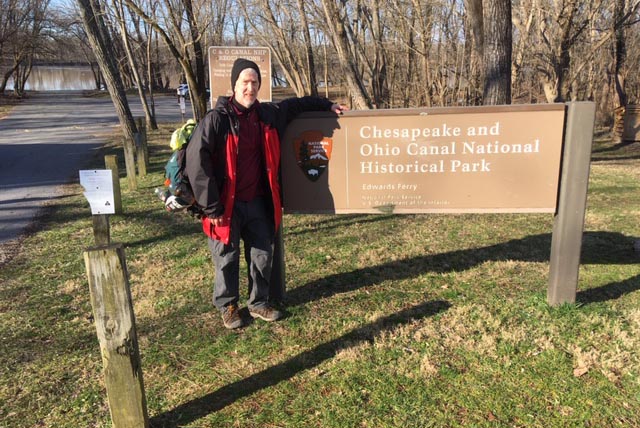 To celebrate the 50th anniversary of the C&O Canal becoming a National Historical Park, we are featuring 50 Canal Stories throughout 2021. Each story will take a look at a person's relationship with the C&O Canal. Whether an NPS ranger, a volunteer, or a visitor, everyone has a story to tell about the canal! If you want to share your story, submit it to us at the link here, email it to us at [email protected] or post it on your social media feeds with the hashtag #MyCanalStory.
Ed Purcell, Former Park Ranger for NPS
ED Purcell: Between my love of history and hiking and being a former park ranger, I am always looking for a park to visit. My first visit to the C&O Canal happened when I was checking out Washington, DC for a potential job. It just so happened, that a friend of mine worked as a costumed interpreter on the canal boat in Georgetown. So I went on a ride and saw the towpath that I would soon become very familiar with.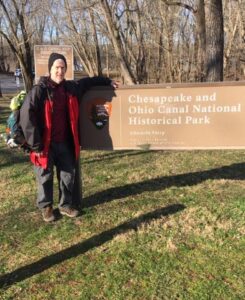 I landed the DC job and wound up working in Foggy Bottom and living in Germantown, MD. After work, I would occasionally go for a run up the towpath. On the weekends, I would ride my bike on different sections of the towpath up to Harpers Ferry. Over the course of five years, I became very familiar with the beauty of the park from Georgetown to Harpers Ferry. Whether running, walking or biking the towpath it was always a refreshing experience.
After five years of living in the DC area, I moved to New Jersey and the C&O Canal became a pleasant memory. That is until five years, when I joined FreeWalkers.ORG. They are a group that promotes the benefits of long distance walking, primarily in the Metro New York area. However, every February, they venture down to Potomac, MD for a fifty-mile Kennedy walk along the C&O Canal. They start walking at Old Anglers Inn at 3:30am! Fast walkers cover the 50 miles to Harpers Ferry by sunset with the rest finishing by 10:00pm.
A Kennedy walk commemorates the 1963 walking challenge made by President Kennedy. In an attempt to promote physical fitness, he challenged Americans to walk 50 miles in a day. The President enlisted his brother, Bobby Kennedy, to help promote the cause. On February 12, 1963, Bobby walked the 50 miles from Old Anglers to Harpers Ferry and helped spark (albeit a short lived) national walking craze.
For the last four years, I have enjoyed getting reacquainted with the C&O Canal. It is a truly beautiful place. I am thankful to all who take care of the park. I particularly liked one Facebook post about the volunteers who are painting the brown mileage markers. The markers are very helpful in keeping track of how far you have to go. Late in the day, it always seems that the markers are more than a mile apart.
There was no Kennedy 50 this year due to the pandemic. But returning to the C&O Canal in the dead of winter next year to walk 50 miles is high on my "post pandemic to do list."