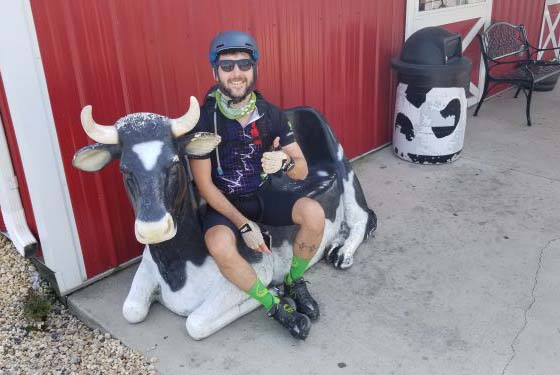 To celebrate the 50th anniversary of the C&O Canal becoming a National Historical Park, we are featuring 50 Canal Stories throughout 2021. Each story will take a look at a person's relationship with the C&O Canal. Whether an NPS ranger, a volunteer, or a visitor, everyone has a story to tell about the canal! If you want to share your story, submit it to us at the link here, email it to us at [email protected] or post it on your social media feeds with the hashtag #MyCanalStory.
Kevin Belanger, Manager of Trail Planning at Rails-to-Trails Conservancy
C&O Canal Trust: When did you first learn of the C&O Canal?
Kevin: I moved to Frederick, Maryland when I was 11. Growing up in New England, I had never heard of it before then. But I joined a Scout troop and we did an overnight bike trip on the canal sometime soon after moving there. It was tough on my department store bicycle, but it was so cool to know that a trail existed that could take me all the way into Washington, DC or all the way to Cumberland and beyond.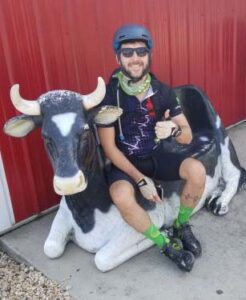 C&O Canal Trust: What is it like working for Rails-to-Trails Conservancy? What is your job?
Kevin: I am the Manager of Trail Planning at Rails-to-Trails Conservancy. It is the kind of job I didn't know existed when I was growing up, but all of my life choices were guiding me to it without even knowing it! I support the planning side of several of our trail network-building projects around the country, most notably the Great American Rail-Trail, which is a multi-use, cross-country trail that is already more than 53% complete. The C&O Canal Towpath is a major section of that route. It is an exciting job, working with all of the partners across the route who help develop and maintain the trails that make up the Great American Rail-Trail. I want to give a major kudos to the Park for working on a 5-year resurfacing plan for the towpath as well. Keeping the surface in good condition will encourage more people to use it, including those with disabilities, which helps level the playing field.
C&O Canal Trust: Tell us more about your through-bike ride last summer. How long did it take to complete your ride and what was your favorite part?
Kevin: My friend, Price, and I made a plan to bike from Pittsburgh to DC a few years ago, and we were committed to doing it in summer 2020. Well, the pandemic happened, and we assumed we would have to postpone. However, as the spring turned into summer, we realized we'd be comfortable doing it as long as we camped the whole time and separated from others. I'm so glad we didn't postpone the trip! We went in August 2020 and took 6 days total to complete the journey. It was amazing to bike that far without having to interact with automobile traffic. We met some friendly people along the way and supported local businesses (my mission was to find an egg sandwich every morning in the first town we passed through, and I was pretty successful!). You can read more about my journey on the towpath on my blog here: www.bywayofthetrails.com and the journey starts on this post here https://www.bywayofthetrail.com/post/pittsburgh-to-dc-bikepacking-adventure-day-0.
C&O Canal Trust: Do you have a favorite memory of the Park?
Kevin: Like a lot of people, I turned to the Park during the pandemic. It was a place I felt safe outside with limited amounts of people. I reconnected with friends and family too. My friend Kate lives near Brunswick and started getting into biking just before the pandemic. When we felt safe to do so, we'd meet somewhere in the middle and bike together. We explored around White's Ferry and Brunswick and Harper's Ferry. I appreciate that it is always there and always open. It gets a lot of love – sometimes maybe too much love with the numbers of people who use it on popular days – but I think a lot of love is a good problem to have.
C&O Canal Trust: What is your favorite place or section of the Park?
Kevin: My favorite place in the Park was camping at the Sorrel Ridge campground. We won the lottery that night. We had just made it through the Paw Paw Tunnel and were tired and hungry. Sorrel Ridge was the first campground, and we set up shop. The weather for August could not have been better. Slight breeze in the air, low humidity, and the campsite was right along the Potomac. We ended up having the campsite to ourselves and even took a little dip in the Potomac (I knew I wouldn't feel comfortable doing it further down river so this was my chance!). There were no mosquitoes too, which made it even better. 10 out of 10
C&O Canal Trust: What does the canal mean to you?
Kevin: I've moved around the country as an adult, but I moved back to Washington, DC in 2013 and have lived within a few miles of the canal ever since. The canal is a place to slow down. A place to feel history and nature in the modern day. A place to see wildlife – blue herons are my favorite, they look like tiny dinosaurs. The towpath is an accessible resource to a lot of people – it's flat, the surface keeps getting better, and you can do a lot of things on it. It is a great outdoor adventure close to home. You don't have to through-bike the route to experience the adventure, it's right there for everyone. As a member of the LGBT community, it's also a place where I always feel welcomed. I'm grateful that it exists and look forward to taking my children on it one day!