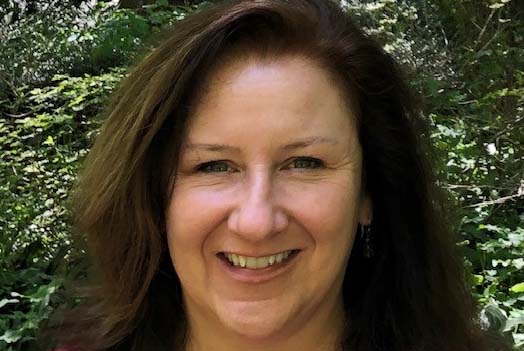 To celebrate the 50th anniversary of the C&O Canal becoming a National Historical Park, we are featuring 50 Canal Stories throughout 2021. Each story will take a look at a person's relationship with the C&O Canal. Whether an NPS ranger, a volunteer, or a visitor, everyone has a story to tell about the canal! If you want to share your story, submit it to us at the link here, email it to us at [email protected] or post it on your social media feeds with the hashtag #MyCanalStory.
Katie Rapp, TowpathGO! Fundraiser, Bike Rider, & C&O Canal Photographer
I owe my sanity over the past year to my frequent bike rides along the C&O Canal. The beauty, wildlife, solitude, fresh air, and nightly light show over the Potomac keep me coming back. I'm raising funds for the C&O Canal Trust so they can continue to maintain this 184.5 mile treasure that runs from Georgetown to Cumberland. Because TowpathGO! is in honor of the 50th anniversary of the canal becoming a park, my initial goal was to ride 50 miles and raise $1,000 (matching up to $500). I met those goals in a couple days, so switched to 100 miles and $1,500. I'm past 100 miles already, so I've upped the ante again and am now planning to ride 184.5 miles (the length of the canal) and raise $1,845 for the Canal Trust by July 10. I'm probably going to pass my mileage goal this coming week, so I'll just keep riding! Please help me pass my fundraising goal, too! https://secure.givelively.org//donate/c-o-canal-trust-inc/towpathgo-2021/katie-rapp-2
Follow me on Facebook to see lots of photos and updates from my bike rides: https://www.facebook.com/katie.rapp1
C&O Canal Trust: What is your relationship with the C&O Canal?
Katie: I love riding my bike on the towpath. I also love learning about the history. I've taken many guided hikes in the Park over the years – Seneca Quarry where the stone used to build the Smithsonian Castle came from, Blockhouse Point with its wildflowers and Civil War history, Monocacy Aqueduct, birding walks (heron nurseries! eagles' nests!). I've been hanging around the canal for a long time!
C&O Canal Trust: When did you first learn of the C&O Canal?
Katie: When I lived in DC many years ago, I visited Great Falls a few times and saw the canal, but I didn't know about the towpath running from Georgetown to Cumberland until I moved to Gaithersburg in 1999. I don't like riding my bike on roads around here and the terrain is a bit hilly for me, so the towpath is perfect.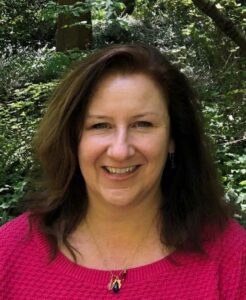 I've been busy raising my kids (now teens) and so my bike rides were few and far between due to kids' activities and general busy-ness. Then came COVID and full stop on all the lessons and practices. My very first thought with nowhere else to go was I need to get out on the towpath. I didn't have a bike rack, so I shoved my bike into the back of my car! Weather permitting, I've been riding almost nightly after work since last March.
C&O Canal Trust: What is your favorite place to photograph in the Park?
Katie: I am addicted to sunsets over the Potomac. There are a bunch of spots where I love the sunsets at different times of the year. Violette's Lock sunsets in winter and early spring are amazing. There's a spot about a mile below Violette's Lock that has an amazing view up the Potomac and the river glows pink and purple. It's really gorgeous. There are also bends in the towpath where the sun shoots through trees and just lights the sky on fire, reflecting in the canal. I love all these spots and many more.
I'm not really a photographer, at all, even though I enter the Trust's photo contest a lot and had some photos in the Washington County Arts Council competition! A couple years ago I told my friend how beautiful it was on my bike rides, and she asked me to send her photos. I started taking quick snapshots on my cellphone and texting them to her during my rides. It's so beautiful on the towpath, it would be impossible to take bad pictures! But my photos are all just quick snapshots on my cell as I'm riding my bike. I miss more shots than I get, and it's always way more beautiful in person than whatever I capture in my photos. 
During COVID I looked back at my cell phone photos and realized I'd taken some nice pictures. I started sharing them on Facebook just to cheer people up and as a nice distraction this past year. I attach my photos to emails at work, as well. Just something cheerful in a hard year. People like them. 
C&O Canal Trust: Why did you sign up for TowpathGO!?
Katie: Tymber at the Canal Trust suggested it to me. I'm happy to help! I never kept track of how far I was riding, so this has been fun to see how fast the miles are adding up. I'm updating my Facebook with photos after each ride. I also post about wildlife I see and any highlights each night. I mention some history and (of course!) the amazing work of the Canal Trust – resurfacing the towpath, Canal Quarters, etc. I'm so happy to support the Trust.
C&O Canal Trust: Do you have a favorite memory of the Park?
Katie: I'm not exaggerating to say the Park helped me get through this whole year. I will always remember this and be thankful that I had this beautiful place to go. Along with the pandemic and all the things in the news, my dad passed away last summer and I had other stresses. Every night, as I drove out of my neighborhood toward the Park, I felt all the stress melt away. I can't even explain how much this has meant to me!
C&O Canal Trust: What is your favorite place or section of the Park?
Katie: I love the section below Blockhouse Point where the towpath is suspended between the canal and the Potomac with the beautiful stone bluff above the canal. It's so dramatic and peaceful. There's often no one else around and I just stop and enjoy it. One time last summer a beaver mom and her baby came up out of the river right next to me! Another spot I love is at Nolands Ferry. Someone cuts stairs into the dirt on the river bank and there's a secluded little pebble beach on the Potomac. It's gorgeous.