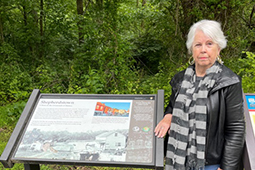 To celebrate the 50th anniversary of the C&O Canal becoming a National Historical Park, we are featuring 50 Canal Stories throughout 2021. Each story will take a look at a person's relationship with the C&O Canal. Whether an NPS ranger, a volunteer, or a visitor, everyone has a story to tell about the canal! If you want to share your story, submit it to us at the link here, email it to us at [email protected] or post it on your social media feeds with the hashtag #MyCanalStory.
Lois Turco, long-time volunteer with Canal Towns Partnership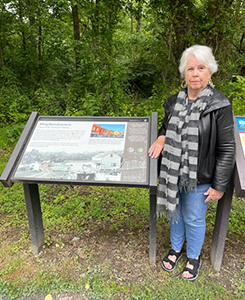 Growing up in Washington, D.C., along River Road, my parents and I often took a drive down to Falls Road into McArthur Blvd. and parked across from Old Anglers Inn and walk the towpath to Widewater. Back then, the large basin was undergoing some repair. Walking along the washed-out towpath was tricky. I remember seeing many fishermen and canoes. Access to the Falls was through a toll gate, and the hardy walkers held onto the somewhat unstable rails to see the Great Falls. The park was in my backyard and D.C. and MD residents took advantage of its proximity.
Returning to the United States after five tours abroad, we rediscovered the canal as a National Historical Park within the NPS. From where we lived in Rockville, MD, near Falls Road, it was an easy drive to the park. Again the park, the towpath, and its proximity to the river provided needed respite and renewal.
After retirement, we moved to Shepherdstown, WV, and quickly discovered that the park was again in our backyard. I became a Shepherdstown Rotarian and worked with the C&O Canal National Historical Park to design a ramp which would make accessibility from the Lock 38 towpath up to the new Rumsey Bridge a reality. From there, I worked with the NPS River, Trails, Conservation Assistance (RTCA) to facilitate the creation of a new program within the C&O Canal Trust: the Canal Towns Partnership, which promotes the sustainable economic development of our Canal Towns by promoting recreational tourism and the experience of the town and the park in partnership. Since 2011, I have been a board member and for four years chair of the Partnership. I enjoy being a Shepherdstown trail ambassador. Indeed, the canal, whether then or now, remains a fixture in my life.