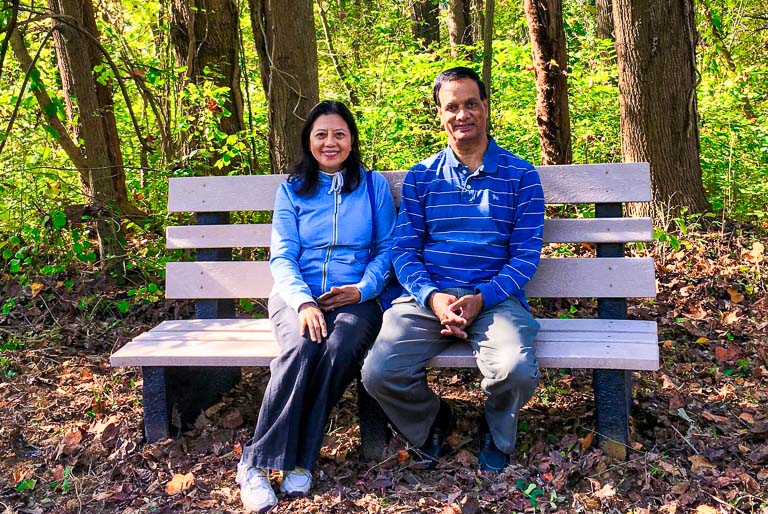 To celebrate the 50th anniversary of the C&O Canal becoming a National Historical Park, we are featuring 50 Canal Stories throughout 2021. Each story will take a look at a person's relationship with the C&O Canal. Whether an NPS ranger, a volunteer, or a visitor, everyone has a story to tell about the canal! If you want to share your story, submit it to us at the link here, email it to us at [email protected] or post it on your social media feeds with the hashtag #MyCanalStory.
Vinod Thomas, Frequent Visitor and Photographer of the Canal
C&O Canal Trust: What is your history/relationship with the canal?
Vinod: Both Leila and I have lived in the DC-MD area since the mid-70s, and our introduction to the C&O Canal started at Georgetown, which we both frequented when we resided, studied, and worked nearby. We learned about the canal as tourists, and the longer we stayed here, the more family and friends we took there to enjoy it with us. Nowadays, we consider the easy access to the canal one of the blessings of living in Bethesda, from where we have ventured on the towpath that offers many delightful sights and sounds of nature, including fantastic views of the Potomac River. 
Vinod's keener pursuit of photography after his retirement from the World Bank has made it possible for him to visit certain spots more frequently, whether it is to watch the Blue Heron at Fletchers Cove, wait for Painted Bunting appearances at Great Falls, or catch some interesting sights at the Monocacy River bridge and viaduct. About five years ago, we lost our youngest child, who had significant experiences biking and jogging along the towpath nearest us, and we began to deeply appreciate the canal for that reason; we always find peace and solitude there. We have come to know of friends, old and new, who also consider it the national treasure that it is. They visit or volunteer to keep it appreciated, safe, and beautiful, and we are grateful for their devotion.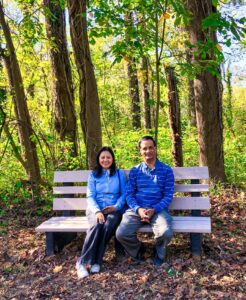 C&O Canal Trust: What is your favorite thing to do on the canal?
Vinod: It is always a delight for both of us to walk along the towpath and take in all the marvels natural beauty has to offer on any given day, be it a flock of ducks foraging for food in the water, a cardinal calling from a tree or a bush, or butterflies flitting among wildflowers.  C&O Canal symbolizes harmony with nature and conservation of flora and fauna, which the world so desperately needs today. When a picture of the Blue Heron that Vinod took at Fletcher Cove was featured on C&O Canal membership pass a couple of years ago, we were happy for the chance to show everyone in that way one of the many regulars to be found along the canal.  

C&O Canal Trust: Do you have a favorite spot on the canal? Why is it your favorite?
Vinod: Our special place on the canal is a bench that was installed in memory of our son. We like to pause there as we walk on the towpath, reflect on the wonders of nature we feel he has led us to, and then stand awhile by the closest riverbank to reflect some more and pray. The area seems to be the habitat of several bird species and butterflies. 
C&O Canal Trust: Can you share your favorite canal memory?
Vinod: One of many favorites is a chat we had with a couple who happened to be renting the cabin at Lock 6. They said they were teachers and had come from Chicago with a few of their students. We thought it was simply wonderful of them to share the experience with young people who need to learn and appreciate the history of the C&O Canal while discovering the treats that nature brings to all the senses.  We spent time talking with them and taking photographs to remember this special meeting.

C&O Canal Trust: What does the C&O Canal mean to you?
Vinod: The C&O Canal is a beautiful way of experiencing history and nature near where we live. The Canal has a rich history and heritage, it brings people and nature together and represents the best of conserving nature and preserving history. It is a reminder of the American can-do spirit, as well as the importance of preserving the past while protecting nature for the benefit of future generations.