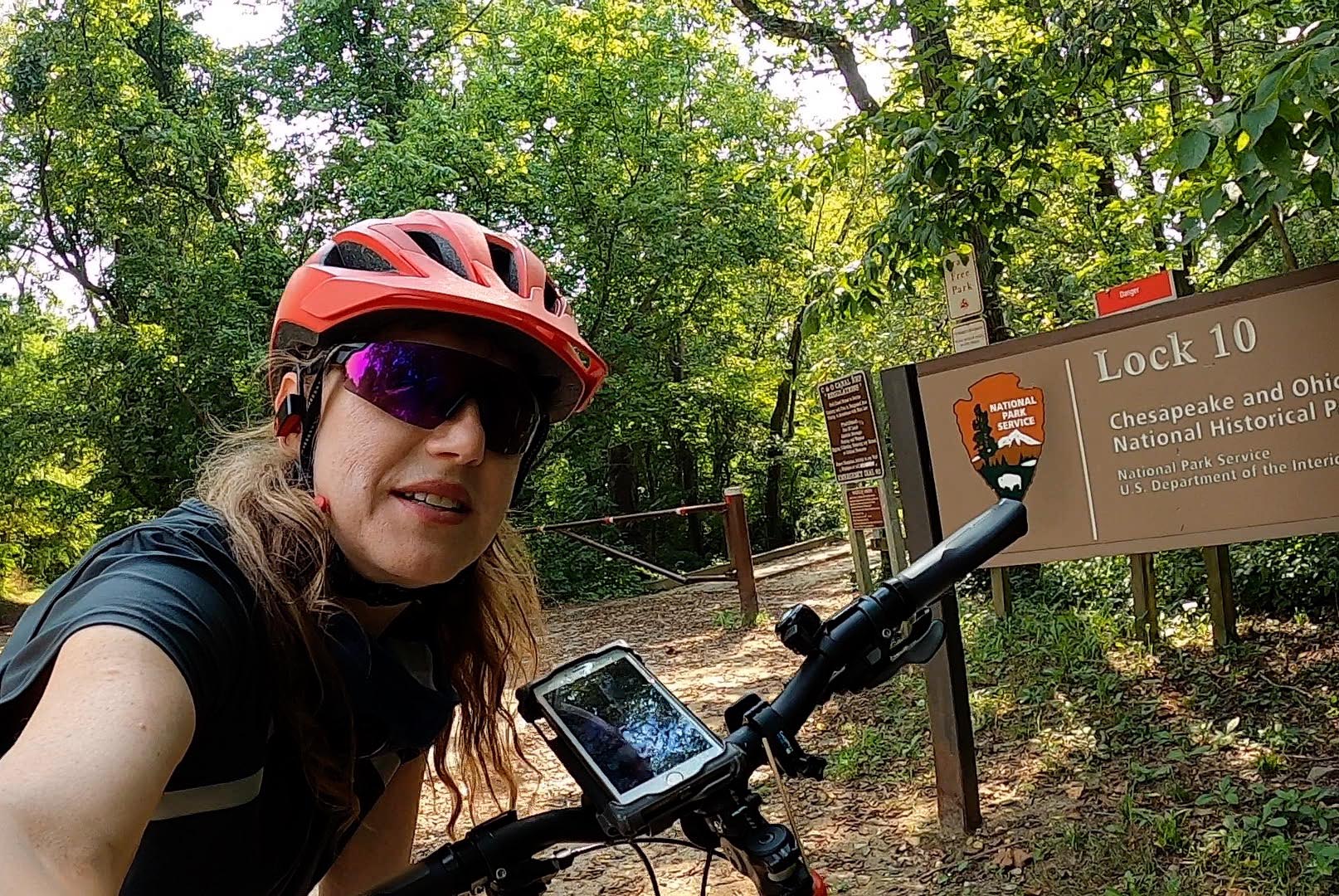 To celebrate the 50th anniversary of the C&O Canal becoming a National Historical Park, we are featuring 50 Canal Stories throughout 2021. Each story will take a look at a person's relationship with the C&O Canal. Whether an NPS ranger, a volunteer, or a visitor, everyone has a story to tell about the canal! If you want to share your story, submit it to us at the link here, email it to us at [email protected] or post it on your social media feeds with the hashtag #MyCanalStory.
Kari Cannistraro, Avid Canal Bike Rider & Vlogger
C&O Canal Trust: Tell us your canal story!
Kari: During the quarantine, I longed for some release. I craved the freedom to discover something new, explore hidden treasures, connect with nature, and engage in some fun exercise. Bike riding on the C&O Canal Towpath was the answer. I started planning each bike adventure as a tour with points of interest. Each tour would be about 20 miles to complete. As a videographer, I included my GoPro camera on these excursions. Thus began my new adventure creating videos to inspire more people to get out there and ride the C&O Canal Towpath Trail. Over time the bike touring made a profound change in my life.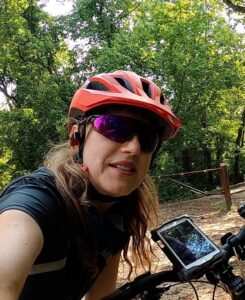 Knowing that there were once Indians habituating right in this area sharpens my experience. I ride along the Potomac River on one side and the canal on the other side. I envision the mules pulling the boats through along the waterway and stopping at the lock gates to pass through the lock. I yell "Heeeey, Lock!" That is what the canal boater would yell to the lock keeper to open up the gates so as to pass through. As I ride along, I watch the trees sway in the wind with leaves splashing on the trail, feeling a kinship with the tranquil and of the stirring of nature drawing me in. I often pause off the bike trail and listen to the sounds of nature around me. I continue to ride along the Potomac River with the wind blowing through my hair just being in the moment. I let my mind wander and breathe in the pure air. I am in a gothic cathedral of trees. It's a drug. I pass a historic marker that has a description of a Civil War battle crossing and a desperate escape. It really happened right here! I have to stop and take a closer look. Filming while rolling along and stopping at points of interest has intensified my experiences and my feelings of well-being. There is gold in "them thar hills"…yes…gold mines. I fight the rough hilly terrain feeling the thrill of danger to conquer it. I pass one of the most picturesque railroad depots and then quarry ruins that look like Roman ruins, but this is Maryland. On another trip, I push my bike off the path towards an 18th-century old village. Even though only stonewall ruins remain, it gives me a sense of adventure and travel. I feel as if I am on vacation. I need more! My goal is to continue to film my bike adventures and post them on YouTube and cover all of the 184.5 miles of the C&O Canal Towpath. I am biking the trail in segments and have already posted many videos. Each video has a travel destination to stop, enjoy and learn about the history surrounding the C&O Canal Towpath. There are hidden gems out there that enhance the biking experience. Besides various historic ruins, waterfalls, charming towns, gold mines, horse farms, ghosts, eagles, there is the ever-pervasive nature and wildlife. So many stories of interest are nestled nearby and often hidden along the trail. The C&O Canal Towpath is a wonder waiting to be discovered.
As I say at the end of all my videos…. "Hope to see you riding!"
Below are some of the C&O Towpath videos shot during the bike rides.
1.Lock 18 to Lock 23- Great Falls to Seneca Mill and Quarry Ruins
https://youtu.be/nzri5KVbrcs
2.Cabin John, Maryland to Georgetown, DC Lock 10 to Lock 5
https://youtu.be/x563f3aoG9I
3.Point of Rocks, MD to Harpers Ferry, WVA Lock 29 to Lock 33
https://youtu.be/si8ZClfKcOo
4.Harpers Ferry, WVA to Shepherdstown, WVA Lock 33 to Lock 38
https://youtu.be/q4T2Q5VdLsI
YouTube Channel: https://www.youtube.com/channel/UC3og6FPSbicKUUhhnJmgLGw