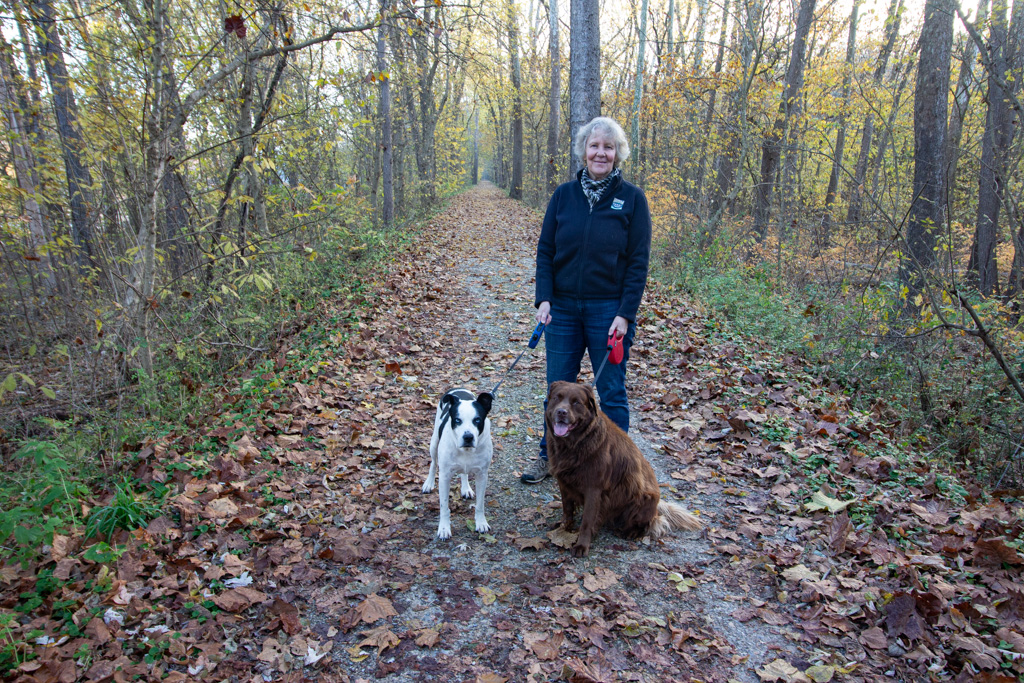 To celebrate the 50th anniversary of the C&O Canal becoming a National Historical Park, we are featuring 50 Canal Stories throughout 2021. Each story will take a look at a person's relationship with the C&O Canal. Whether an NPS ranger, a volunteer, or a visitor, everyone has a story to tell about the canal! If you want to share your story, submit it to us at the link here, email it to us at [email protected] or post it on your social media feeds with the hashtag #MyCanalStory.
Patricia Barber, Retiring Director of Development of the C&O Canal Trust
C&O Canal Trust: What is your relationship with the Canal?
Patricia: I was introduced to the C&O Canal in 1979 when I arrived in the DC area from what was then Rhodesia to attend grad school. The civil war in Rhodesia in the 1970s had rendered the countryside unsafe, so I was enchanted that I could explore this national park alone and in safety. Since then, I have been an enthusiastic Park user  – hiking, biking, walking three generations of hounds, paddling on the river, learning the canal's history, and just loving its natural beauty. My husband and I have also owned two homes within walking distance of the canal and I have been privileged to work for the C&O Canal Trust as its Director of Development for five years.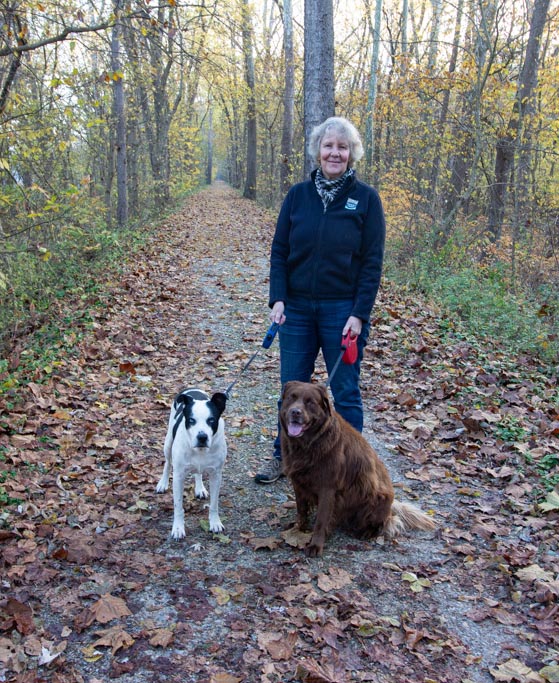 C&O Canal Trust: Our readers may not know that you are retiring from the C&O Canal Trust at the end of January 2021. What is your favorite project or accomplishment you were a part of during your time with the Trust?
Patricia: Engaging with so many wonderful  Trust supporters whose generosity will leave an enduring legacy for the C&O Canal lovers of the future.

C&O Canal Trust: What is your favorite Canal memory?
Patricia: Watching my son (now 30) toddling among the bluebells along the towpath.

C&O Canal Trust: What is your favorite spot on the canal and why?
Patricia: An impossible question. Great Falls and the Potomac Gorge for their grandeur. Monocacy Aqueduct for its beauty. Pennyfield for its froggy chorus. Paw Paw Tunnel for its testimony to the hard labor of those who built the canal. Antietam Aqueduct to Taylors Landing because it's my "home stretch."

C&O Canal Trust: What does the canal mean to you?
Patricia: Peace, beauty, adventure, escape from the rat race.