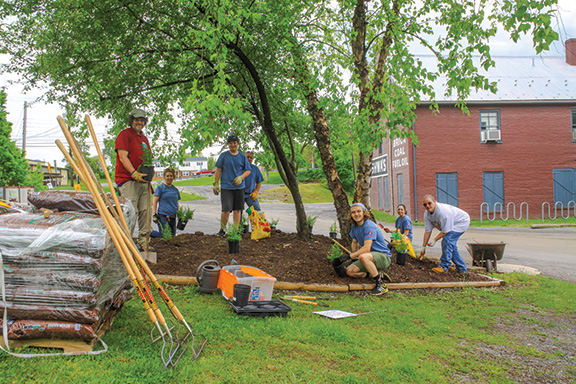 Spanning 184.5 miles and 20,000 acres, the C&O Canal National Historical Park welcomes nearly 5 million visitors each year. That's a lot of land for the National Park Service to maintain! As the official nonprofit partner of the Park, the C&O Canal Trust is happy to help out, assisting Park staff in preservation and maintenance projects year-round to keep the C&O Canal clean and beautiful.
Each spring, community members join together during a series of public Canal Pride clean-up events hosted by the Trust that ready the Park for the busy summer season. Volunteers gather at sites up and down the canal to remove trash, spread mulch, rake leaves, pull invasive species, plant gardens, and paint picnic benches, fire rings, and historic buildings. Their efforts save the National Park Service hundreds of thousands of dollars on labor.
Corporate and community groups can partner with the C&O Canal Trust throughout the year on clean-up projects at a favorite area of the Park. During the COVID-19 pandemic, we are also encouraging families and small groups of friends to hold small Personal Canal Pride Day events focused on cleaning up trash.
You can learn more about volunteering for one of the Trust's clean-up events or make a donation to support our work in the Park. We thank you for your support!