Thank you for your interest in our Canal Pride Days! With your help, we will preserve and beautify four popular locations along the C&O Canal. Work will include repainting visitor facilities, revitalizing park grounds, improving campgrounds, preserving historic structures, removing trash and invasive plant species, and more. We look forward to working together with you for a fun day of volunteer service!
Wait List
The Great Falls and Williamsport events are full; however, you can sign up for the wait list. We will contact you by email to let you know whether you should report on the scheduled date.
2019 Canal Pride Days:
April 27: Paw Paw
May 4: Great Falls (Wait List)
May 18: Williamsport (Wait List)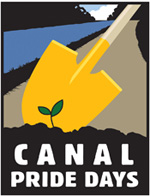 Become a Canal Pride Steward or Sponsor
We have two opportunities for corporations to get involved in Canal Pride:
Become a Sponsor: We depend on our Canal Pride corporate sponsors who, as community leaders, step up to cover the expenses associated with the volunteer projects that make such a difference in our Park. Your sponsor dollars help us buy project materials for over 1,000 volunteers, as well as cover organizational costs associated with running these projects. In appreciation for your sponsorship, we offer a range of recognition opportunities. Download the information packet here.
Host your own Canal Pride event and become a Steward: You can choose a date and a location along the Canal for your own Canal Pride event. Bring your employees out for a team-building experience as a way to give back to the community. Download the information packet here or sign up to host your group event here.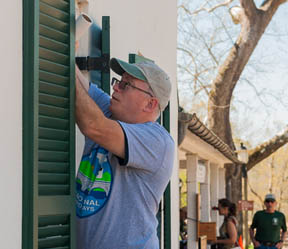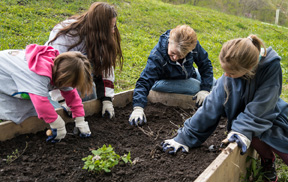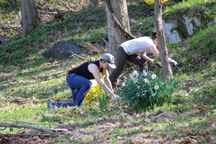 Other Ways to Show Your Canal Pride
About Canal Pride Days
Canal Pride is the Trust's signature volunteer program that rallies more than 1,000 volunteers annually to perform a range of preservation and beautification projects in the Park. Along with supporting National Park Service efforts to maintain and improve Park amenities, Canal Pride engages local communities in shared stewardship of this treasured recreational, natural, and historical resource. The Trust also facilitates corporate volunteer team-building days and provides volunteer opportunities for faith-based groups and other organizations. In 2017, the Trust launched its Canal For All outreach to Latino and African American communities to diversify participation in our Canal Pride and Canal Quarters programs and to introduce youth from these communities to the extraordinary environmental resources of the C&O Canal National Historical Park.
Thank you to our
2018 Canal Pride Sponsors!