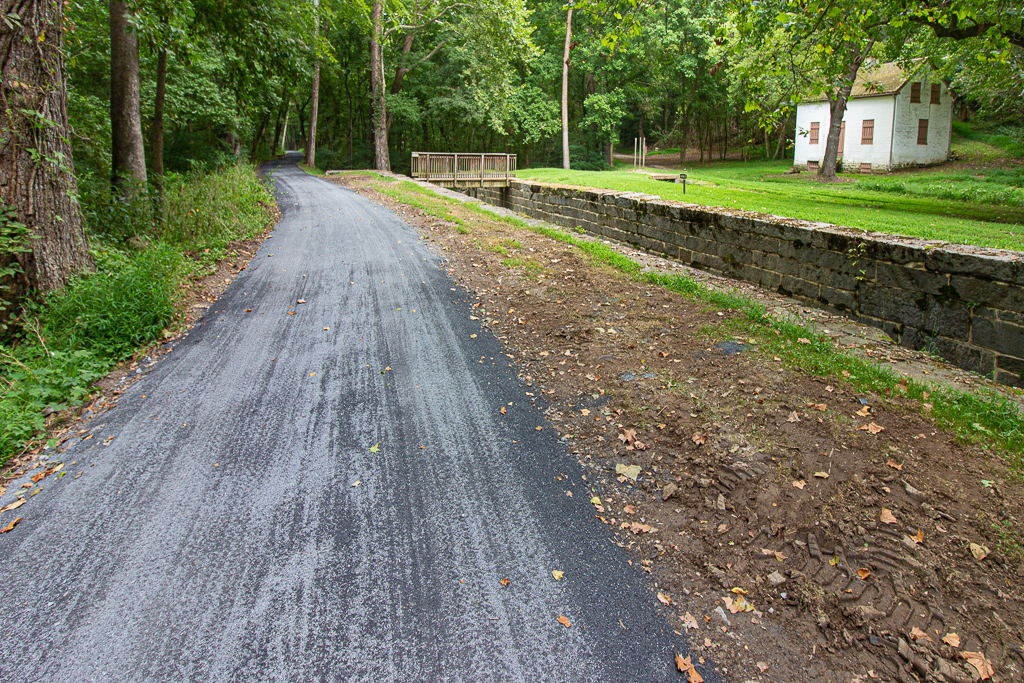 'Resurfaced Towpath' by Simon Barber
Thanks to the funding support of private donors to the C&O Canal Trust, along with funds from the National Park Service and the State of Maryland, resurfacing crews continue their march up the towpath. As of this spring, 42 miles of the C&O Canal's towpath between Edwards Ferry and Lock 38/Shepherdstown Bridge have been graded and resurfaced. The Park anticipates a further 14 miles from Swains Lock to Edwards Ferry to be completed by the end of 2020.
The work is part of the "Towpath Rehabilitation: A Safe Towpath" project, aimed at improving more than 80 miles of the 184.5 mile-long towpath by removing the rocks, roots, and ruts in the towpath surface that can be dangerous to cyclists and hikers. "Nearly 5 million visitors recreate along the C&O Canal each year and nearly all of them use the towpath for a variety of activities," Superintendent Tina Cappetta said. "We want to ensure that our visitors have a safe, durable towpath for years to come."
Besides removing obstacles from the towpath, the resurfacing work is also removing the grassy median strip that contributes to puddling. Crews are then grading the towpath to facilitate water runoff and resurfacing it with the same crushed stone dust that is used on the Great Allegheny Passage, the rail trail that connects to the C&O Canal towpath in Cumberland, MD, and runs to Pittsburgh, PA.
The current towpath surface is gravel over clay, which holds water and is prone to muddiness when wet. The new crushed stone dust does not retain water when applied to a properly graded surface and hardens with use, making it less likely to erode and rut. It is also easier to maintain over time.
The C&O Canal Trust has raised funds to support this work and engage an engineering consultant to provide technical expertise to the National Park Service for this project. We have also assisted with advocacy work to secure $1.14 million as of 2019 from Maryland's Transportation Alternatives Program.