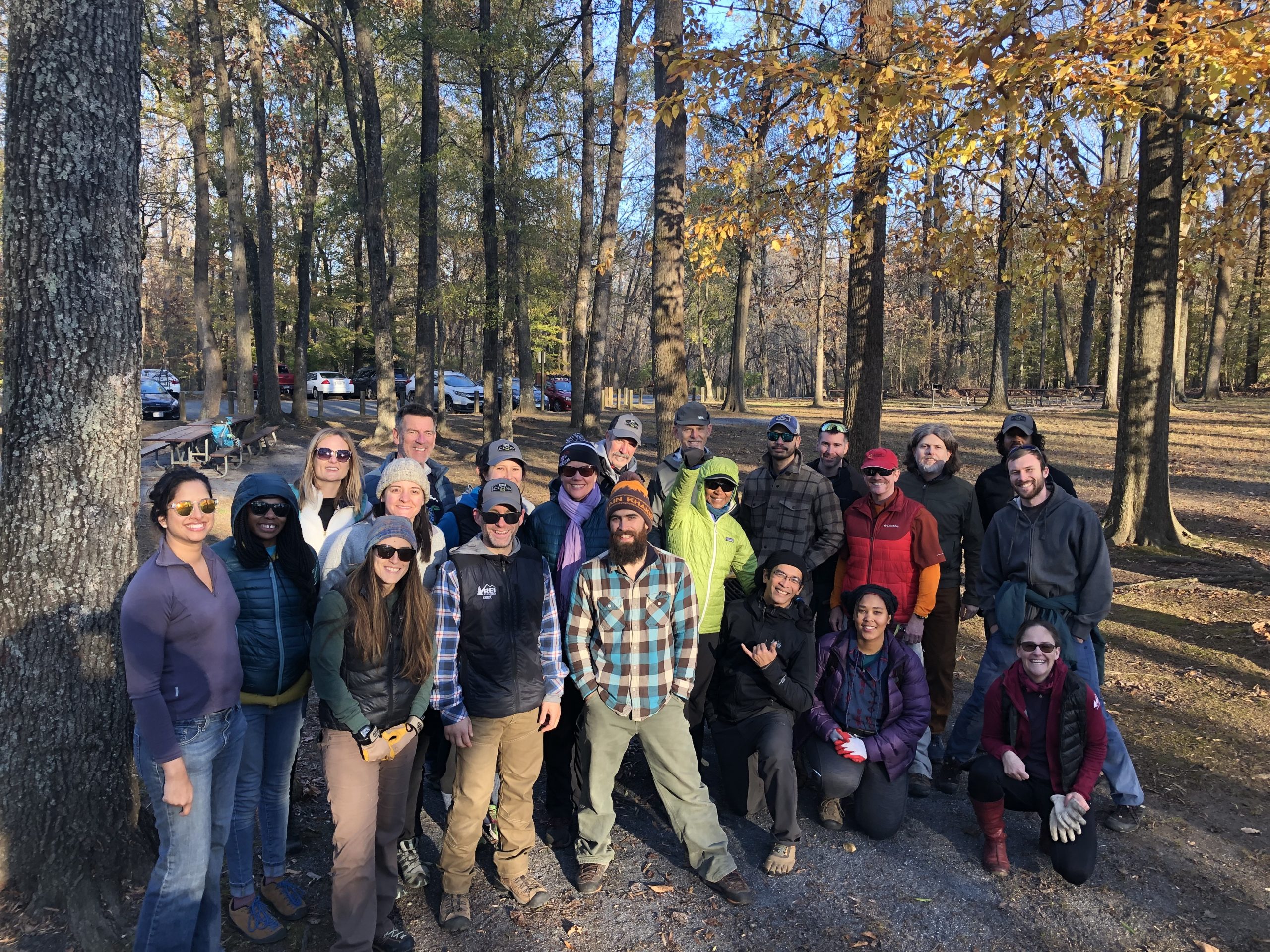 REI Group Shot by Trust Staff
REI is well known as a retailer that sells quality gear to outdoor enthusiasts. What is less well known is that the Seattle-based co-op is also an industry leader in supporting organizations that provide stewardship for parks and public lands around the nation. Since 2012, as our premier Canal Pride sponsor, REI has contributed close to $90,000 to fund the work our Canal Pride volunteers do to improve access to the C&O Canal National Historical Park's recreational assets. This generous support is driven by REI's philosophy that a life outdoors is a life well-lived. For folks to enjoy that experience, they need places in nature that are welcoming and accessible, be they residents of city, suburbs, or country.
The C&O Canal Trust is the recipient of an REI "Place Grant" that funds projects to improve access to the Park's great recreational assets.  With REI's support, the Trust's Canal Pride volunteers work each year to repair the towpath, provide paddlers with access to the Potomac River, improve popular trails like the Billy Goat Trail, and spruce up campgrounds and picnic areas. 
"With the 2019 visitation to the Park at a 30-year high of 5.1 million, this work is increasingly important," said Trust President Robin Zanotti. "REI's support helps ensure that today's visitors have a great experience and choose to come back again and again."
The co-op's engagement in the Park extends beyond grant-making. Employees from REI's local stores volunteer for Canal Pride and run a variety of programs in the Park such as climbing classes at Carderock and sunset hikes along the towpath and other trails. As the effects of climate change become more apparent, REI believes that getting people outdoors is an important part of the solution. Since 2014, the co-op has closed its stores nationwide on Black Friday to encourage Americans to use that day to enjoy nature rather than hit the shopping mall. "On average, people spend 95 percent of their time indoors," said Naz Ahmed, Experiences and Philanthropy Manager for REI Mid-Atlantic. "They are facing a nature deficit and that impacts our ability to combat climate change. As the naturalist David Attenborough once said, 'No one will protect what they don't care about, and no one will care about what they haven't experienced.'" In partnership with REI, the Trust is working to overcome that deficit.