Great News! Lockhouse 22 (Pennyfield) and Lockhouse 25 (Edwards Ferry) recently received new roofs from the National Park Service. Both of these lockhouses are part of the C&O Canal Trust's Canal Quarters program and are available for overnight stays, allowing visitors a chance to experience a small part of what a lock keeper's life was like during the days of the Canal's operation. These new roofs are essential for the preservation of the lockhouses themselves, and the history inside them.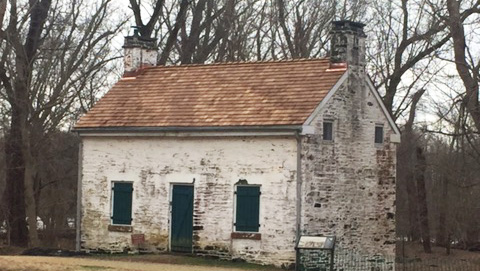 Lockhouse 22 by Robert Kaiser, Lockhouse 22 Quartermaster
Wood shake shingles were the primary building material for roofs in the 18th century during the construction of the canal. Wooden shingles were lightweight, easily installed, and made with traditional hand tools. The regional forests generally dictated what type of wood was used including pine, cedar, oak, cypress, or redwood. These species are naturally rot resistant and can withstand the elements far longer than other species also found regionally. Also, note the copper flashing around the chimney in the photo above. Lead and copper were primarily used for flashing during the 18th century before facilities for rolling sheet metal were developed in America. Most of the early metals were imported from England.
Did you know that five percent of all historic structures found in the National Park System are located in the C&O Canal National Historical Park? The C&O Canal is home to over 1,300 historic structures, including more than two dozen lockhouses. The preservation and restoration of these structures remains a focus for the Park.  
If you would like to find out more about our Canal Quarters Program or to reserve your lockhouse, please visit our Canal Quarters page.