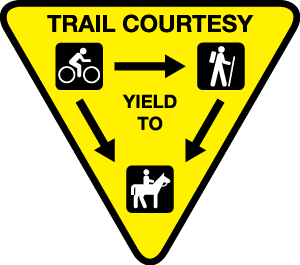 You may have heard that e-bikes are now legal to ride in National Parks and on other public lands. Whether you're delighted to be able to take your e-bike on the towpath, or worried about how this will impact your experience in the Park, please read on.
Background
On August 29, 2019 the US Department of the Interior Secretarial Order 3376 called for the National Park Service to exempt all e-bikes from the definition of motor vehicles and revise rules to be consistent with the order, which states that E-bikes are "allowed where other types of bicycles are allowed and prohibited where other type of bicycles are prohibited." The National Park Service adopted this order on August 30 in Policy Memorandum 19-01.
Definition
E-bike is defined as a "two or three wheeled cycle with fully operable pedals and an electric motor of less than 750 watts."
C&O Canal National Historical Park Rules
The C&O Canal National Historical Park (NHP) has implemented the rule that e-bikes are allowed where traditional bicycles are allowed, and prohibited where traditional bicycles are prohibited. Additionally, e-bike users must pedal at all times while in the Park. Using an e-bike motor without pedaling is prohibited in the Park.
It's important for all cyclists to respect the rules of the towpath, regardless of the type of bike that they are riding:
Respect the 15 MPH maximum speed limit on the towpath.
Dismount and walk across aqueducts and footbridges.
Dismount in congested areas such as Great Falls.
Yield right of way to all pedestrians, horses and mules.
When approaching others sound a bell or announce yourself loudly within 100 feet. Be respectful of those who may be hard of hearing or need a little more time to move out of your way.
Learn more about hiking and biking on the C&O Canal National Historical Park website.