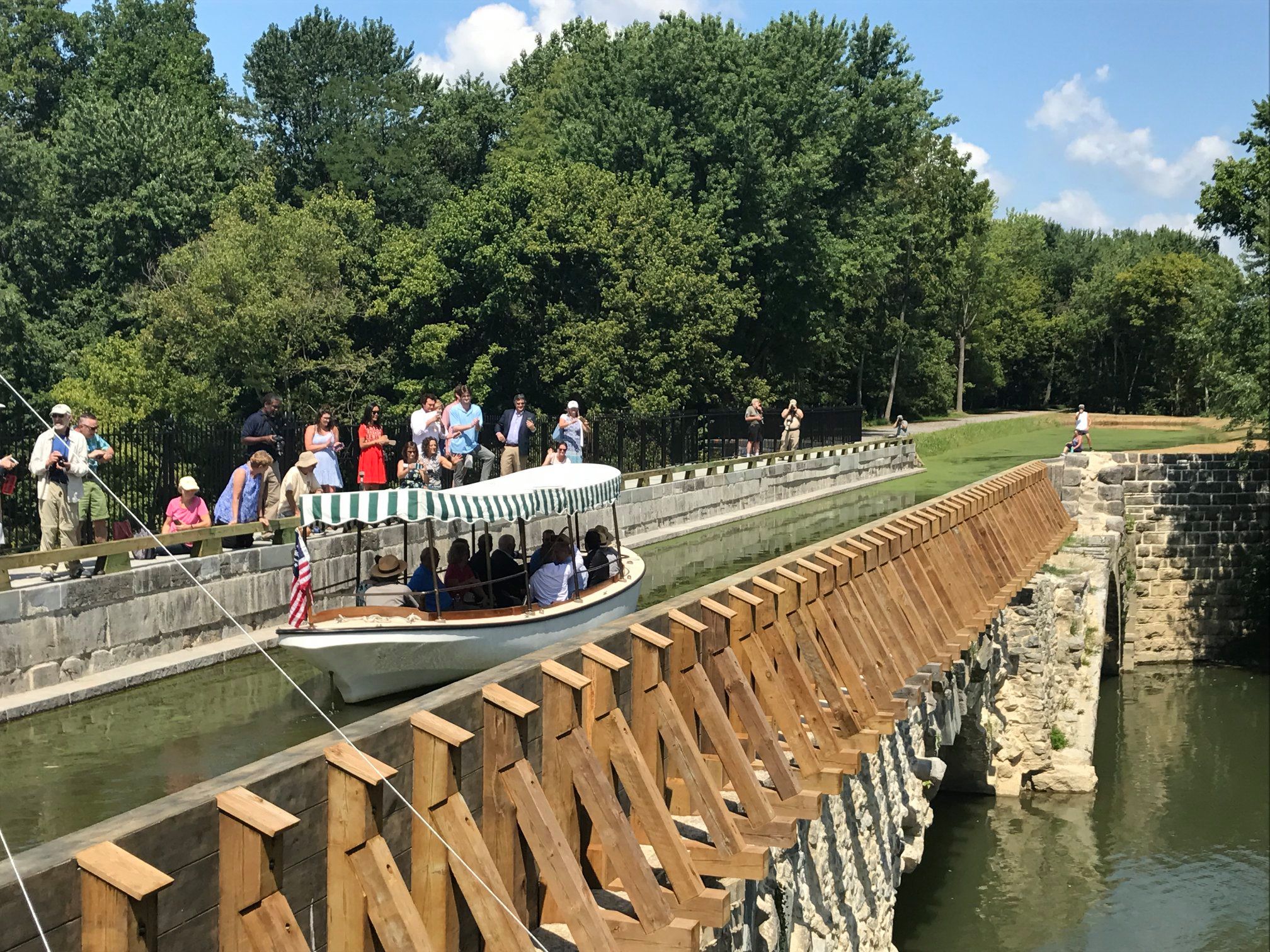 On Thursday, August 8, the first boat traveled across the newly-restored Conococheague Aqueduct in Williamsport, MD. The C&O Canal National Historical Park hosted Governor Larry Hogan, Senator Ben Cardin, and Senator Chris Van Hollen, among other elected officials at a ribbon-cutting ceremony attended by hundreds of people.
Attendees heard from Park Superintendent Kevin Brandt, Williamsport Mayor Bill Green, Hogan, Cardin, Van Hollen, Washington County officials, and the deputy director of the National Park Service, P. Daniel Smith. Afterwards, the VIPs took an inaugural boat ride across the aqueduct, cutting the ribbon with the prow of the boat as it entered the aqueduct. In addition to the ribbon-cutting ceremony, there was a groundbreaking ceremony for the new Park headquarters and visitor center that will be located adjacent to the Park in Williamsport.
After the ceremony, members of the public also had the opportunity to cross the aqueduct in an 1890s replica launch boat. The Trolley Barn, Lockhouse 44, and the Visitor Center were also open to the public for hands-on activities and discovery.
The restoration began in 2017, but dedicated town and Park staff had been working for many years to secure the $10.2 million needed to make this project possible. The project was funded by the National Park fee program, the Maryland State Transportation Alteratives Program, and the Maryland Bikeways Program.
This is the first operational aqueduct on the C&O Canal since 1924. The aqueduct also holds Civil War history. Confederate soldiers damaged the aqueduct in an attempt to stop the Union's transportation of coal, but it was repaired four days later. During construction, a Civil War artillery shell was found underground near the aqueduct. The shell is believed to be a result of the war damage.
The Williamsport Visitor Center is now offering free one-hour boat tours Fridays, Saturday, and Sundays through September. Williamsport visitors can also see an operational lift lock, a refurbished lockhouse, a railroad lift bridge, a canal turning basin, and warehouse all in one location.
Additional Resources:
http://www.candocanal.org/articles/Conococheague-Aq-2019-06.pdf
https://www.nps.gov/choh/planyourvisit/williamsport-launch-boat-program.htm