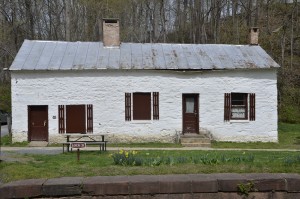 May is National Historic Preservation Month! Historic preservation is very important to us here at the C&O Canal Trust, and much of our work involves partnering with the National Park Service staff to preserve the historic structures in the C&O Canal National Historical Park (NHP). Read on to learn more!
The first historic preservation effort at what would become C&O Canal NHP occurred immediately after portions of the C&O Canal were first acquired by the federal government in 1938. African American Civilian Conservation Corps (CCC) workers restored the lower 22 miles of the C&O Canal as parkland and rewatered the canal.  Today still, the 22-mile stretch from Violettes Lock to Georgetown is the only continuous section of the canal able to hold water.  Learn more about the men who worked in the camps and truly built the national park you enjoy today here:https://www.nps.gov/choh/learn/historyculture/civilianconservationcorpsccc.htm
As the federal government continued to acquire and preserve portions of the canal, the question became "What do we do with it?" Keeping with popular activities of the time, the National Park Service in the 1950s proposed a parkway for the canal above Great Falls, to open recreational activities in western Maryland to the traveling public. Local environmentalists, along with Supreme Court Justice William O. Douglas, shown a light on the need to preserve the old canal just as it was: a place of refuge along the Potomac River. Thanks to the efforts of Douglas and other activists, the C&O Canal joined the National Park System in 1971 and is here for us all to enjoy today. Learn more about Douglas's story here: https://www.canaltrust.org/2014/03/justice-douglas-one-man-can-make-a-difference/
The lockhouses are some of the most historic structures in the Park and have been a major focus of preservation work. The C&O Canal Trust's Canal Quarters program has thus far rehabilitated six lockhouses, retaining their quaint historic charm and furnishing them in period detail. You and your family or friends can now spend the night in these gems, taking a step back in time to live life like the lock keepers did! For more information about how you can stay the night in a lockhouse, visit https://www.canaltrust.org/programs/canal-quarters/.
The Park and the Trust are currently partnering on the preservation and rehabilitation of a seventh lockhouse – Swains Lockhouse 21. After suffering the damaging effects of weather and vandals, the lockhouse is slated for construction that will turn back the clock to its 1930s appearance. When finished, this lockhouse will join the Canal Quarters program and will also be used as a space for school-aged children participating in the Park's Canal Classrooms activities. (https://www.canaltrust.org/support/our-funding-priorities/towpath-forever/swains/)
A major historic preservation project in the Park kicked off this past Friday in Williamsport at the groundbreaking of the Conococheague Aqueduct project. Over the next few years, the Park will return the aqueduct to its 1920s appearance, restoring it to become the first functioning aqueduct on the canal since 1924. Visitors will then be able to ride a canal boat across an aqueduct, through a lock, and under a railroad lift bridge, the only place in all of North America where this is possible! (https://www.nps.gov/choh/learn/news/co-canal-announces-centennial-funding.htm)
During the canal era, boats ended their journey down the canal in Georgetown, where their wares were then transferred to either train or ship to travel to markets up and down the east coast. Today, the Georgetown area of the C&O Canal is undergoing a revitalization all its own. During a multi-year project, the first mile of the C&O Canal will be restored, with repairs to locks 3 and 4, a new historic replica canal boat much like the Mercer at Great Falls, and the redevelopment of the first mile of the canal in Georgetown into a sustainable urban park. (https://www.nps.gov/choh/planyourvisit/georgetownvisitorcenter.htm)
Not all preservation projects involve bulldozers and construction crews, however! Each year, we host thousands of volunteers in the Park who combine forces to form a preservation powerhouse! Called Canal Pride, these events mobilize volunteers to assist with many projects in the Park, including painting historic structures; painting and restoring campgrounds; planting gardens; raking leaves; spreading mulch; pulling invasive plants; and much more. Through these events, volunteers are able to get involved with projects that help to beautify and preserve the C&O Canal, so that will be here for many generations to enjoy. (https://www.canaltrust.org/programs/canal-pride-days/)