If you're researching the lives of Thomas Jefferson, Abraham Lincoln, or Martin Luther King, your Google search shouldn't pose any problems. But what if you had to profile Mary Virginia Swain, a woman who lived an unassuming life in a lockhouse on the C&O Canal in the early 1900s?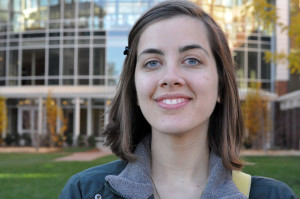 This is the kind of challenge Ellen Blackmon lives for.
Ellen is earning a master's degree in public history at James Madison University.
This winter and spring, she's an intern with the National Park Service (NPS) where she is helping interpret the appearance of Swains Lockhouse as a rehabilitated Canal Quarters guest residence.
Extraordinary research on an everyday family.
What did the Swain house look like in 1916? Who lived there and how? What kinds of things would visitors expect to find if they stayed at the Swain home that year? Ellen digs deep in family and local records, then cross-checks her facts to make sure they align with the history of the time.
To Ellen, the Swains are a fascinating family in the history of the Canal. The Swains and their descendants were part of Canal life from the very beginning—from digging the Canal channel in the early 1800s to piloting Canal boats to working the locks.
"I'm an historical detective," Ellen said. "Unlike prominent Americans, far more families in our country's history have not left strong evidence of their activities. My job is to uncover these mysteries to create a genuine experience at Swains."
"We want people to touch things, experience it," Ellen said. "We're trying to ramp up the interpretation from other lockhouses and include information and historical perspectives throughout the home. Learning could be anywhere!"
Re-creating 1916 life on the Canal.
Ellen's research will help add some of the authentic touches to the rehabilitated Swains home once it opens to the public. These could include exhibit panels of historical interest, interpretive images of the family and the Canal, relevant periodicals, books and other items.
Ellen's work with the NPS is unpaid, but the experience is invaluable, and she hopes to stay on with the NPS and tackle other difficult historical challenges. This is exactly the work that Ellen wants to do as she prepares for her degree and her career. With apologies of course, to Mr. Jefferson, Mr. Lincoln and Mr. King.
Next Time
What provisions are we making in Swains Lockhouse in preparation for flooding? Read it here!