Round Top Cement Mill
When the channel for the C&O Canal was being dug in 1837, argillomagenisian limestone was discovered – material well suited for hydraulic cement. George Shafer, who produced cement upstream, opened a cement mill in 1838 at the foot of Roundtop Hill. This mill supplied cement to Roundtop Hill, up to the Paw Paw Tunnel, and as far away as the Washington Monument, the Cabin John Bridge, and the U.S. Capitol.
In 1863, the mill was sold and renamed the Round Top Hydraulic Cement Company, and it quickly became one of Washington County's most profitable businesses. The cement mill was relocated to the berm side of the canal – meaning it no longer got power from the fall of water from the canal. It was most likely converted to steam power as a chimney sits upon the present-day ruins. The mill was put out of business by Portland cement – which was stronger and took longer to harden – and closed in 1909.
The Round Top Cement Mill is a Canal Discovery! Read a Park Ranger's story and view other multimedia on our Canal Discovery page.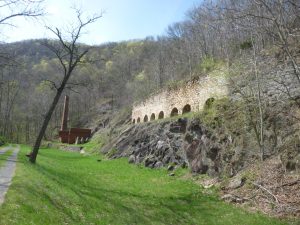 Photo by: PATC GPS Rangers
Nearby Points of Interest:
Social Media Share: