McCoys Ferry
Fords and ferries were once located all along the 184.5 miles of the C&O Canal, providing places to cross the Potomac River. McCoys Ferry was one of those crossing sites. During the Civil War, the ferry was on the border between two warring nations. McCoys Ferry became one of many places along the canal where Union and Confederate forces clashed over river crossings and the canal. Throughout the war, these skirmishes spread fear among the people who worked on the canal and in nearby communities.
The first clash occurred May 23, 1861, when Confederate troops attempted to capture McCoys Ferry. They succeeded in capturing the ferry boat and were taking it to the Virginia side of the river when the Union troops from Clear Spring arrived. During the skirmish that followed, the Confederates were forced to abandon the ferry boat halfway across the Potomac River. The unmanned boat drifted downstream towards Dam #5 until Union soldiers retrieved it and restored ferry operations.
A second incident occurred October 10, 1862, less than one month after the battle of Antietam. Confederate General J.E.B. Stuart and his cavalry units crossed the Potomac River at McCoys Ferry at the start of a campaign that led them to Chambersburg, PA. Once there, Stuart's troops raided a Union arsenal for much needed supplies and then burned several buildings.
Today, like much of the Canal in this stretch, McCoys Ferry is quiet and quite peaceful. It's hard to imagine all the fear and chaos that must have existed here during the Civil War. Yet, it is a good place to stop and reflect and be thankful for what we have today.
Add to Itinerary
You can now create your own itineraries to guide your C&O Canal exploration, or you can copy one of ours! Lean more about Itineraries.
Mile Marker: 110.4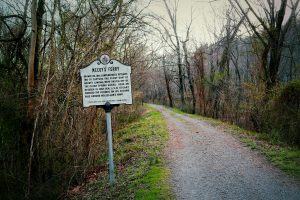 Photo by: MJ Clingan
Social Media Share: