Hancock Tollhouse
The Hancock Tollhouse is one of the last of its kind. It sits on both the National Road – which runs from Cumberland to Wheeling, WV – and the Bank Road – which runs from Baltimore to Cumberland. Built around 1820, it served as a residence for the toll keeper, who manned a gate, raising and lowering it while collecting a fee. There were different fees for different types of vehicles and livestock. Both the Bank and National Road were privately owned at the time, and tolls were a source of income.
Open a few times a year and by appointment, the house has been furnished in typical 1800s furnishings. The Tollhouse is operated by the Hancock Historical Society and is currently closed for renovations.
Add to Itinerary
You can now create your own itineraries to guide your C&O Canal exploration, or you can copy one of ours! Lean more about Itineraries.
Connect: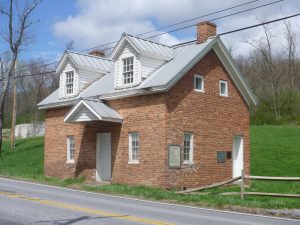 Photo by: PATC GPS Rangers
Nearby Points of Interest:
Social Media Share: