Brunswick
The Brunswick area was once home to the Susquehanna Native Americans. In the early 1700s, the region was known as "Eel town" or "Eel Pot" because the Native Americans fished for eel in the Potomac River. The town name then evolved from Berlin to Barry, and finally to Brunswick when it was incorporated in 1890, as many of the railroad workers residing there were from Brunswick, Germany.
Brunswick began as a trading post on the Chesapeake & Ohio Canal. The post grew into a bustling canal town with a population of 300 residents in the late 1880s. When the Baltimore & Ohio Railroad purchased much of the land along the canal and built their freight yards and maintenance shops in Brunswick, the town grew to nearly 2,500 people. The railroad has defined Brunswick ever since. Brunswick has followed the ups and downs of railroad transportation from a busy hub during World War II to a commuter community today. Brunswick is a major stop on the MARC Train line and many of its residents commute to Washington D.C.
 Brunswick has a quaint downtown area with restaurants, specialty shops, a museum, a C&O Canal Visitor Center, and three murals. Brunswick hosts many reoccurring town events including their Wine & Chocolate Walk in September and Railroad Days in October.
Download brochure: C&O Canal Trail to History: Point of Rocks, Brunswick, Harpers Ferry
Add to Itinerary
You can now create your own itineraries to guide your C&O Canal exploration, or you can copy one of ours! Lean more about Itineraries.
Mile Marker: 55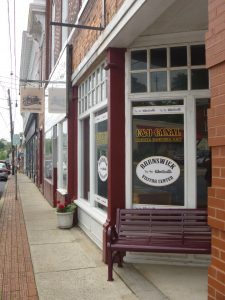 Photo by: PATC GPS Rangers
Social Media Share: