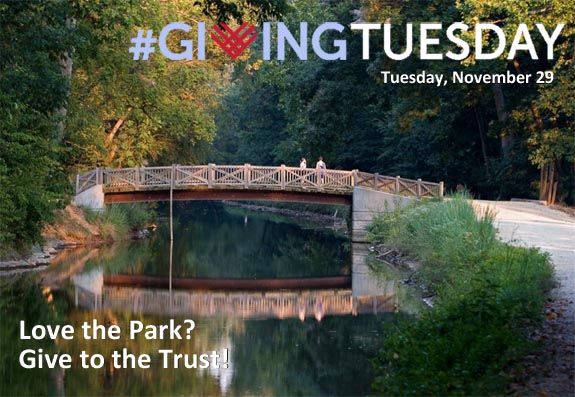 Help us PRESERVE and PROTECT the C&O Canal!
We welcome gifts of all sizes during Giving Tuesday. We will send our popular "184.5" car magnet FREE to everyone who makes a gift of $184.50 or more between now and the end of Giving Tuesday, November 29!
Please make a gift to the C&O Canal Trust on Tuesday, November 29 for

What is Giving Tuesday? Giving Tuesday is a global day of giving celebrated the Tuesday following Thanksgiving and the widely-recognized shopping events Black Friday and Cyber Monday. Giving Tuesday kicks off the charitable season, when many focus on their holiday and end-of-year giving.
Your gift will make a difference for years to come.
If you love the C&O Canal, make a gift to support the work we do to help maintain and preserve our beautiful Park. This natural resource in our backyard provides us exercise, adventure, peace, and solace all year long. Help ensure it will be here for future generations to enjoy as you do today.
With your generous support, we can work together to preserve and protect the C&O Canal National Historical Park!
Your donation will be used to:
Fund restoration and maintenance projects in the Park.

Projects we have funded recently include the replacement of the Marsden Tract Bridge, maintenance to the Capital Crescent Trail, towpath resurfacing, and the emergency bypass around the towpath breach at Clear Spring after a sudden rain storm.

Fund the Park's Canal Classrooms program.

This program brings over 9,000 students of all ages to the Park for Science, Technology, Engineering, and Math (STEM) related lessons.

Fund supplies for our Canal Pride events.

These events put thousands of volunteers to work each year sprucing the Park, painting benches and structures, maintaining campsites, pulling invasive plants, raking, and much more.

Fund our Canal Quarters program and the rehabilitation of Swains we have just embarked on.

Each of our six historic Canal Quarters lockhouses are restored, furnished from periods in the Canal's history, and open to guests for overnight stays.

Fund our Canal Towns Partnership, our Canal Discoveries virtual ranger program, our new Plan Your Visit section of our website, and other programs that enhance each and every visit you make to the Park.
Giving Options
Make a gift of $184.50 or more anytime between now and November 29 to receive a 184.5 mile car magnet as a thank you!
Make a gift of any amount to support the work of the C&O Canal Trust!
Help Us Reach Our Goal of $6,000 for Giving Tuesday! (November 29)
No matter what amount you choose to give, we are so grateful for your support!