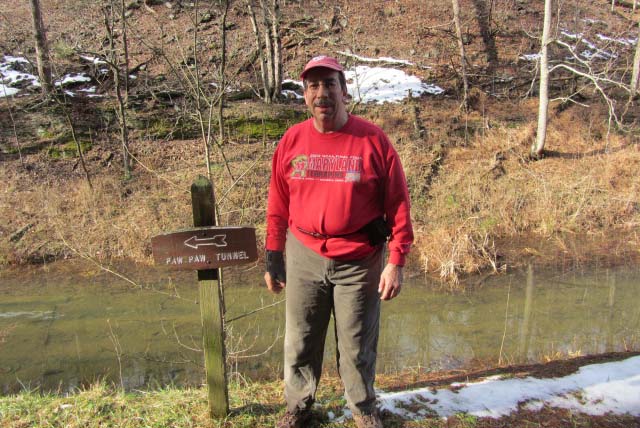 To celebrate the 50th anniversary of the C&O Canal becoming a National Historical Park, we are featuring 50 Canal Stories throughout 2021. Each story will take a look at a person's relationship with the C&O Canal. Whether an NPS ranger, a volunteer, or a visitor, everyone has a story to tell about the canal! If you want to share your story, submit it to us at the link here, email it to us at [email protected] or post it on your social media feeds with the hashtag #MyCanalStory.
Michael Marmer, Lifetime C&O Canal Visitor
C&O Canal Trust: Tell us about your history with the C&O Canal.
Mike: I was born in 1955 and grew up in Wheaton, Maryland. I didn't know of the C&O Canal until I joined a Boy Scout Troop in June of 1967. The scout master, Mr. Augustine, decided that summer that the troop would hike the C&O Canal on weekends.
On a snowy day, January 10, 1970, we finally completed section hiking the entire canal. It took us two years, four months, and two weeks. One time, we got lost on the canal near Paw Paw Tunnel and didn't get home until 4 a.m.! But overall, it was a great experience, and it's something that stayed with me after I left scouting, the memories of the outdoors.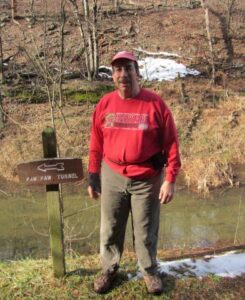 C&O Canal Trust: What memories do you have of the canal?
Mike: One memory I have of the canal is from doing the hikes with the Boy Scouts in Big Pool, the big body of water along the towpath in Western Maryland. During my senior year of high school in 1973, I would take my mother's 1970 Ford Maverick to go to Big Pool to go fishing. I would get up at 5 a.m. and get on the road by 5:30. It was about a two hour drive, so I was probably there by 7:30 A.M. 
As I looked for a fishing spot along the towpath, I saw a mile marker along the towpath. When we were hiking with the scouts, we called out "Mile Marker" every time we saw this welcoming sight. There it was, surrounded by eroding soil and tree roots, with the familiar color of green paint on it. Yes, today, they have brown paint on them, but there was a time when they were painted green! The lines on the marker remind me of smiles, simply happy to see you, says the mile marker. And then you go on to the next mile marker. And to this day, when my wife Linda and I are either biking or hiking on the C&O Canal, I still call out "Mile Marker!" as this thing appears in the distance. 
C&O Canal Trust: How do you use the towpath today?
Mike: My wife Linda and I do a lot biking on the C&O Canal. In fact, my second date with Linda, in April of 1981, was biking on the C&O Canal at Point of Rocks. It was a very muddy day.
We have included the C&O Canal Trust in our will, along with the C&O Canal Association.