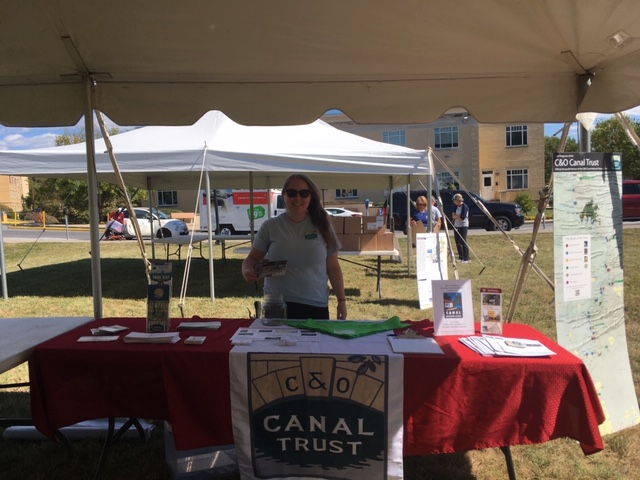 I have been serving with the C&O Canal Trust as a member of the Chesapeake Conservation Corps. At the C&O Canal Trust, every day is different. I might be at my desk for most of the day, answering emails and working on administrative tasks, and the next day, I could be out in the field scoping out projects for Canal Pride Days or checking on one of the lockhouses in the Canal Quarters program. I am nearly six months into my one-year term at the Trust, and I've had the opportunity to work on numerous projects and work closely with the passionate, dedicated staff at the Trust and within the National Park Service (NPS). 
At the start of my term in August, I was thrust into the fast-paced environment of the Trust and put to work preparing for the C&O Canal Trust's largest fundraising event of the year, Park After Dark. Following that, I assisted with a private volunteer clean-up of the canal in Georgetown, helped coordinate a series of appreciation dinners for over 200 park volunteers, and led my own volunteer clean-up at Great Falls. I've gotten to witness firsthand what it takes to run both a large national park and the small nonprofit that supports it by attending board meetings, Trust staff meetings, and NPS meetings. All of these experiences were made possible for me by the Chesapeake Conservation Corps program. 
The Chesapeake Conservation Corps program, administered by the Chesapeake Bay Trust, places young people (ages 18-25) at nonprofits and government agencies in the Chesapeake Watershed for a one-year term of paid service. Throughout the year, the Chesapeake Bay Trust provides Corps members with a variety of professional development opportunities that include trainings, conferences, and grant-writing experience. Each Corps member is paired with a mentor at their host site who helps them develop a workplan and a capstone project to complete during their year of service. 
This program is a great opportunity for young people to gain valuable experience in the environmental field, explore potential careers, and form lasting friendships. When I finish this program in August, I will leave with experience in grant writing, volunteer management, program management, and diversity, equity, and inclusion. I have also had the chance to explore careers with the National Park Service by shadowing law enforcement rangers and biologists with the park's division of natural resources. Working at the C&O Canal Trust is truly the best of both worlds; it offers the close-knit, casual work environment of a small nonprofit, but with access to the resources of NPS. 
The Trust is one of many potential host sites for the 2020-2021 Chesapeake Conservation Corps program. The application period for corps members is currently open, with a deadline of March 12th at 4pm. Read more about the program and how to apply here.