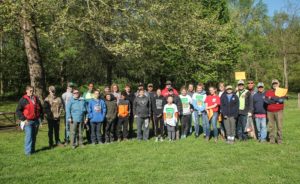 We had a great showing of support at our first Canal Pride Day of 2019 at the Paw Paw Campground, held Saturday, April 27. Forty volunteers tackled many tasks during the three hour event. The volunteers removed invasive plant species like garlic mustard and Japanese barberry, beautified the campground, and resurfaced the towpath inside the Paw Paw tunnel.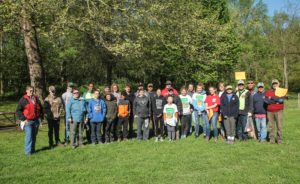 Thank you to all the community members that came out; the Park is better because of you! With two more Canal Pride Days coming up next month, we are looking forward to the other projects we will be able to tackle. Registration has closed for these Days but look for other events and volunteer opportunities (like the 9
th
Annual Park After Dark gala) to support the Park throughout the year.
A special thank-you to our sponsors of the 2019 C&O Canal Pride Days: REI, Guest Services, Inc., David and Page Dekker, M&T Bank, Friends of Historic Great Falls Tavern, FedEx Ground, Minkoff Development Corporation, Younger Toyota, Clark Construction, and Keller Stonebraker Insurance.