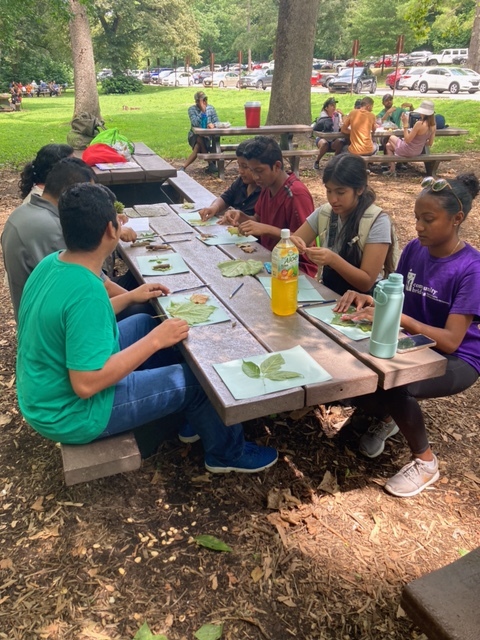 The Trust hosted a Latino Conservation Week celebration on July 22 at Great Falls. In partnership with Community Bridges and Girls Who Hike Virginia, the Canal for All event welcomed 25 youth and adults for a fun day of crafts, hiking, and plant species identification. Latino Conservation Week is an initiative of the Hispanic Access Foundation created to support the Latino community in enjoying the outdoors and participating in activities to protect natural resources. Over 220 events were held nationwide by numerous community, nonprofit, and faith-based organizations from July 15-23. 
C&O Canal Trust staff were thrilled to work with a brand new partner, Nature on Wheels (NOW), through Montgomery County Parks. NOW is a natural science field station built on a modified RV that transports tools and equipment for science presentations all over the county. During this program, Alexandra Ralph and her team of interns taught the participants how to identify plants seen along the C&O Canal using the smartphone app iNaturalist. Using the app made their hike to the Great Falls Overlook more meaningful, as they could immediately recognize plants. The groups were also lucky to see wildlife and enjoyed beaver sightings in the Potomac River! 
The celebration allowed the Trust to expand the use of park media resources in both English and Spanish. Junior Ranger books in both languages were distributed, along with Leave No Trace cards. Group leaders and volunteers were available to provide Spanish language interpretation.
This program was a powerful collaboration with the C&O Canal NHP, NOW, and Girls Who Hike Virginia. These partners' enthusiastic support helped make Latino Conservation Week a memorable experience for all participants.